Press Release 3
Evanston Fire Department A22 In Service
January 10, 2019
Evanston Fire Department's Newest Addition to the Fleet Now in Service
EVANSTON, ILLINOIS - The Evanston Fire Department is proud to announce the arrival of Ambulance 22, the newest addition to the fire department fleet.
Ambulance 22 is a Ford F-550 all- wheel drive vehicle and is equipped with some of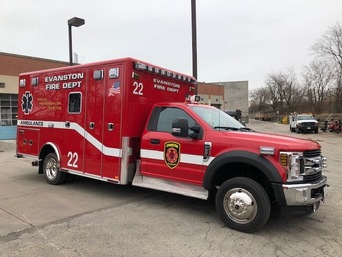 the latest Emergency Medical Services (EMS) features, including a self-loading stretcher system that will make it easier and more efficient to load patients into the ambulance. The ambulance will respond to medical emergencies from Fire Station 2, located at 702 Madison St.
In 2015, Evanston Fire moved away from the International body-style ambulance to the Ford F-550 series. This series has been designed to give the patients and crew a much better transport experience. The improved functionality will also allow the Evanston Fire Department to better navigate roads during difficult winter conditions.
The purchase of this vehicle would not have been possible without the perseverance and dedication of the Fire Department's EMS Committee. The Evanston Fire Department would like to also acknowledge the City Council, the City's Fleet Division, and residents of Evanston for their roles in helping make this possible. This is truly a benefit for the City of Evanston.