Honor Guard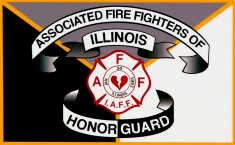 Evanston Fire Fighters Association Local 742 has been represented on the Honor Guard since 2003, and continues to add members who are dedicated to honoring our fallen comrades. The AFFI Honor Guard is activated upon the Line of Duty Death of any Illinois Union Fire Fighter at the families request. The Honor Guard is also present at the Illinois Fallen Fire Fighter Memorial Ceremony, held each May in Springfield, IL. The AFFI Honor Guard is also the single largest State Honor Guard present at the IAFF Fallen Fire Fighter Memorial, held in Colorado Springs, Co each September. In addition, there are many parades and events that the Honor Guard has been invited to march in or post colors for, such as the AFL-CIO Convention, Opening Day at Wrigley Field one year, and many other events.
The Associated Fire Fighters of Illinois Honor Guard is a unit comprised of Union Fire Fighters. To become a member of the Honor Guard, one must attend the Annual Honor Guard Convention. At the Convention, there is an Induction Ceremony for all new members. There is a three year commitment, and you must attend at least two of the four District training sessions each year. There will be a $40.00 new member fee to cover the cost of items given to new inductees. Once an active member, if you are unable to attend the Annual Convention, a $25.00 Membership Fee is required to maintain active membership for the year. If you are interested in becoming a member or just want more information about our organization, please contact the AFFI at (217) 522-8180. Membership is open to all AFFI members. Or, if you are a Local 742 Member, contact any of the 3 current members. The Honor Guard is comprised of 8 Districts, with the 8th being Pipers & Drummers which cover the entire State of Illinois. In order to become inducted into the 8th District, one must be a member of their Local's assigned District for one year minimum. Local 742 is a Member of the 5th District. Firefighter/Paramedic Jeffrey Boetto is a Drill Captain for the 5th District.
On January 30, 1993 69 members of the Associated Firefighters of Illinois formed the 1st ever statewide Honor Guard. Our membership is now close to 600 strong. Through the years, this Honor Guard has been there to honor, to cherish, to remember our fallen comrades and bestow respect and dignity to our comrades family. This has been and will continue to be our commitment to you "Whatever It Takes."
As this Honor Guard begins it's 19th year of existence, we are reminded as firefighters the dangers we are confronted with everyday. In 2010, this Honor Guard paid their respects to 7 of our Fallen Comrades. We look forward that 2011 will be a better year for the fire service. But know if called upon, this Honor Guard will take great pride to uphold the tradition and integrity that has made us who we are today.
The members of this Honor Guard continue to participate in many events throughout the year. The Illinois Fallen Firefighter Memorial & Firefighter Medal of Honor Awards Ceremony in Springfield, IAFF Fallen Firefighter Memorial Ceremony in Colorado Springs, various other ceremonies & events in their communities.
I invite all who visit this website to use this information, and I hope you find the information here beneficial.
In Brotherhood,
Jeff H. Bruno
State Commander
AFFI Honor Guard

Members: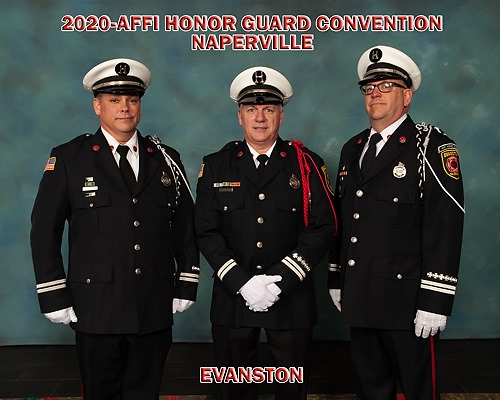 Captain Jeffrey Boetto, Captain Jason Hays, Captain Tim Taylor, Captain Matt Grizely.
Members of the EFD Honor Guard: Captain Damion Bazan, Firefighter/Paramedic Zach Cascarano, Firefighter/Parameic Andrew Jakas, Firefighter/Paramedic Joe Ceriale, Retired D/C Ronn Gannon, Retired D/C Phil Burns, Retired S/C David Arreguin, Retired Captain/Paramedic Dale Fochs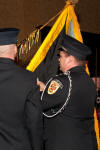 Brother Boetto tying a Black Ribbon to the AFFI Honor Guard Flag February 12, 2011 at the AFFI Honor Guard Ceremony. This ribbon was in honor of fallen Brother Pat Reif, who passed away on January 18, 2010. Each year, a ribbon is added to the flag for each AFFI Member who has died in the line of duty. 7 Brother's who selflessly gave the ultimate sacrifice in 2010 were honored this year.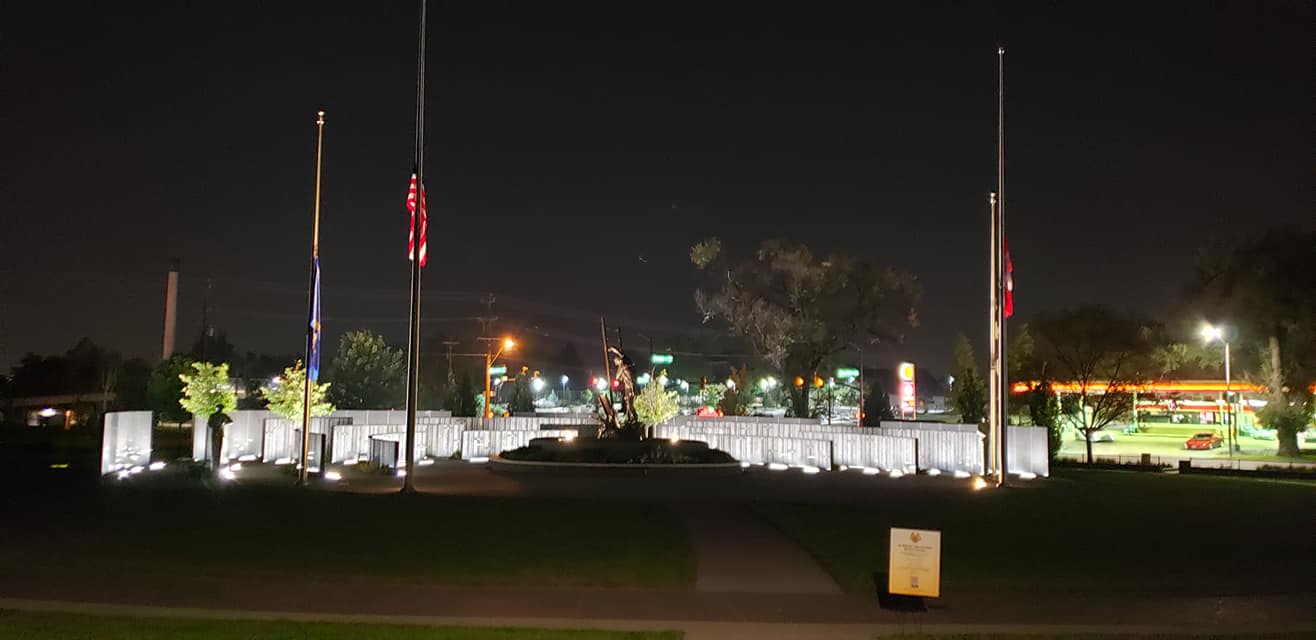 IAFF Fallen Firefighter Memorial, Colorado Springs, CO.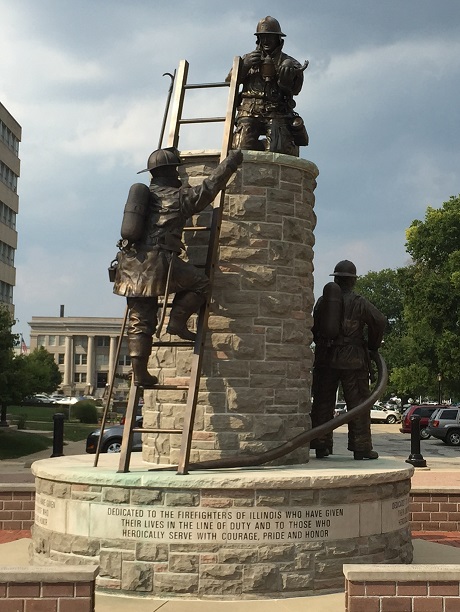 Illinois Fallen Firefighter Memorial, Springfield, IL
Photos:
Evanston Fire & Police Honor Guard, Fireman's Park September 11, 2010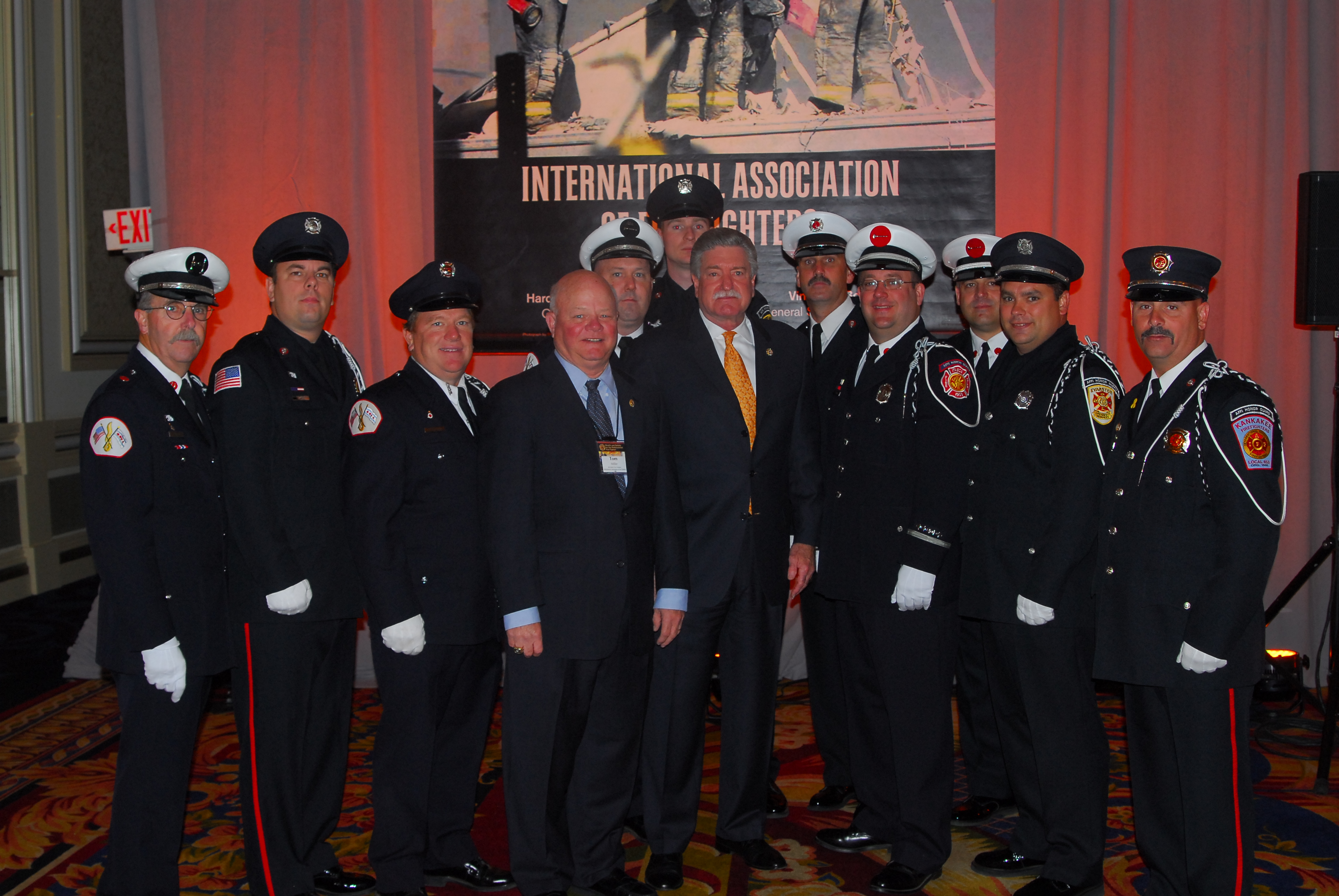 AFFI Honor Guard Members with 8th District Vice President Tom Miller and IAFF General President Harold Schaitberger
at the 2007 IAFF John P. Redmond Symposium at the Chicago Hilton.