Archives
Archives of old pictures, articles, and information.
Archives
FAO's Davis and Bevins Promoted
The Evanston Fire Department Promotes Two New Fire Apparatus Operators
EVANSTON, ILLINOIS - The Evanston Fire Department has announced the promotion of Firefighters Dan Bevins and Wayne Davis to Fire Apparatus Operator, effective Friday, December 1, 2017.
Firefighter Bevins is a 10-year veteran of the department. He has been a member of the Water Rescue Team. He has also participated on the apparatus development committee. Bevins is currently part of the Peer Fitness Team and a Union Steward for Local 742.
Firefighter Davis is a 13-year veteran of the department who is currently a CPR instructor, an instructor for the ETHS Public Safety Class and a member of the department's recruiting team.
"The Fire Apparatus Operator position is critical to our daily operations and I know F.A.O.s Bevins and Davis will do an outstanding job for the department in their new roles," said Chief Brian Scott.
Capt. Courtney Edwards Promoted
November 29, 2017
Evanston Fire Department Promotes Courtney Edwards to Captain
EVANSTON, ILLINOIS - The Evanston Fire Department has announced the promotion of Fire Apparatus Operator Courtney Edwards to Captain effective Wednesday, November 29, 2017.
Captain Edwards is a 13-year veteran of the Evanston Fire Department who comes from a family of public servants. Courtney's grandfather, James C. Edwards, retired as the Evanston Deputy Chief of Police in 1993, and his father, James C. Edwards Jr., retired as an Evanston Fire Department Captain in 2009.
"Captain Edwards has always been a highly competent and dedicated firefighter, paramedic and apparatus driver. I look forward to him becoming an outstanding company officer for the department," said Chief Brian Scott.
Local 742 Wrestle Fest Fundraiser
Thank you to everyone who came out and supported Local 742 at our Wrestle Fest Fundraiser. The $500 grand prize winner was kind enough to donate it back to Local 742! We hope you all had a great time, and enjoyed those who took the extra step and dressed up!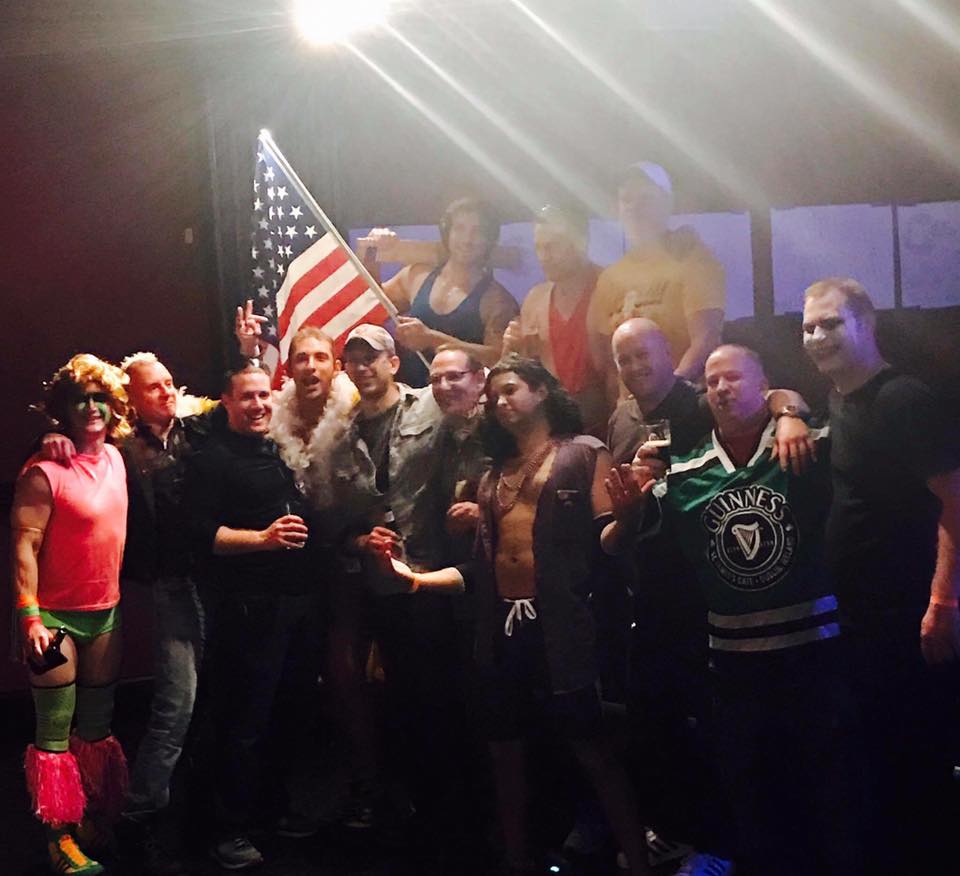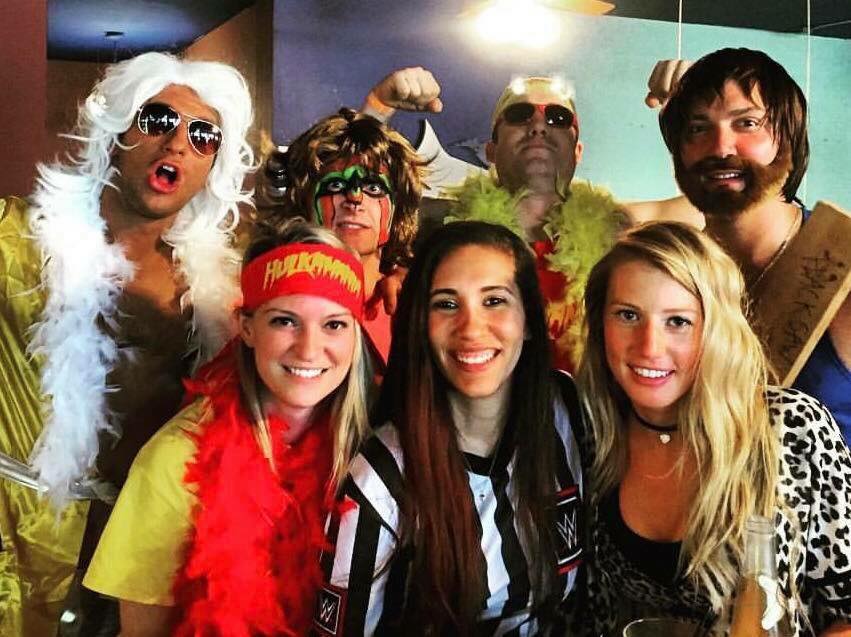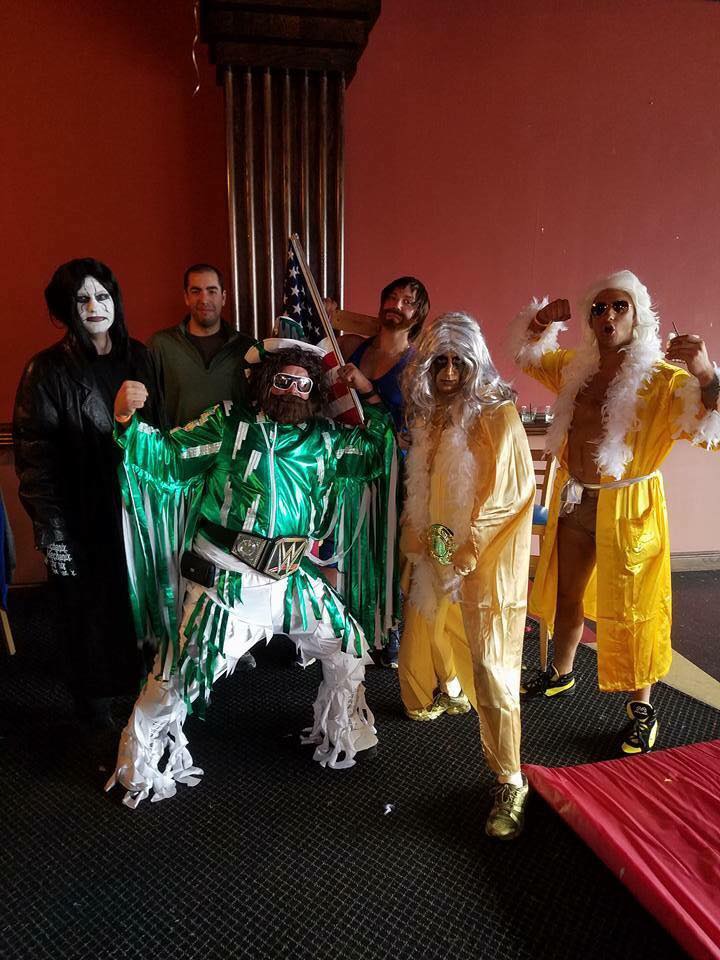 William "Billy" Lynch new Local 742 President
March 14, 2017
At last night's meeting, Brother Billy Lynch took over as President of Local 742 from Brother Matt Smith.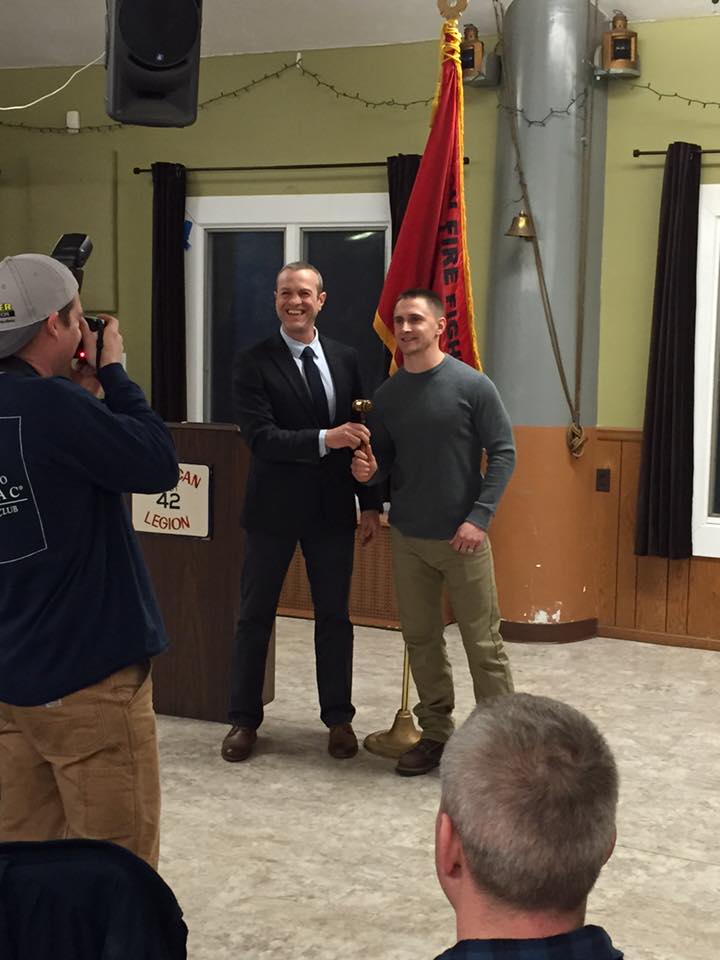 Thank you, Matt for your tireless work for the membership! Congrats to Brother Billy Lynch as you assume your leadership role!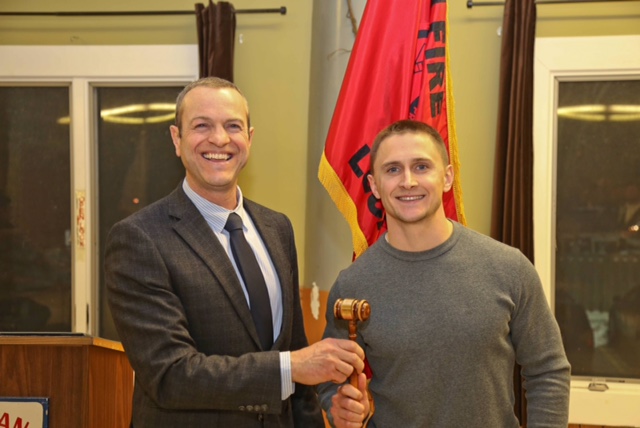 Photo by Mick Morel


Evanston Fire Department Awarded Operations and Safety Grant
Evanston, Illinois Sept. 2, 12016- The Evanston Fire Department has announced its selection as a grant recipient for the Federal Emergency Management Agency's Assistance to Firefighters Grant Program. The AFG is a competitive national grant program with agencies from around the country vying for the limited available funds.
The Assistance to Firefighters Grants (AFG) primary goal is to enhance the safety of the public and firefighters to fire-related hazards by providing direct financial assistance to eligible departments.
The Operations and Safety grant will provide $243,200.00 for the Department to replace all 38 frontline Self Contained Breathing Apparatus and associated equipment, currently assigned to its engines, trucks and ambulances which are nearing end of use status.
"On behalf of the entire Department and City of Evanston, I would like to thank the Federal Emergency Management Agency for recognizing our need for this vital equipment and for awarding our Department this grant", stated Fire Chief Greg Klaiber. "I would also like to thank our Department's Management Analyst Mike Whalen, for his extraordinary work on the grant application process."
Evanston Fire Explorer Programm
December 16, 2015 was awards night for our Fire Explorer program. Job well done by these fine young men and women. And thanks to program Director Megan Kamarchevakul and assistants Tim Taylor and Dan Philipaitis.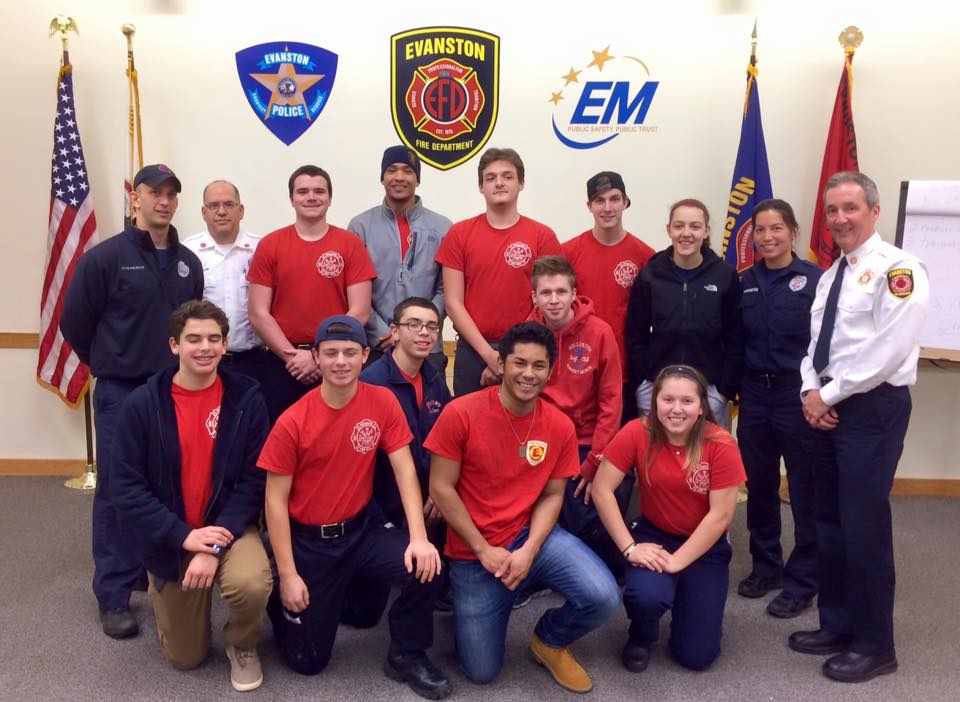 Congratulations to Bill Muno on his promotion to Batt. Chief
Here are a couple of photo's from Shift Chief Muno's Promotion Ceremony.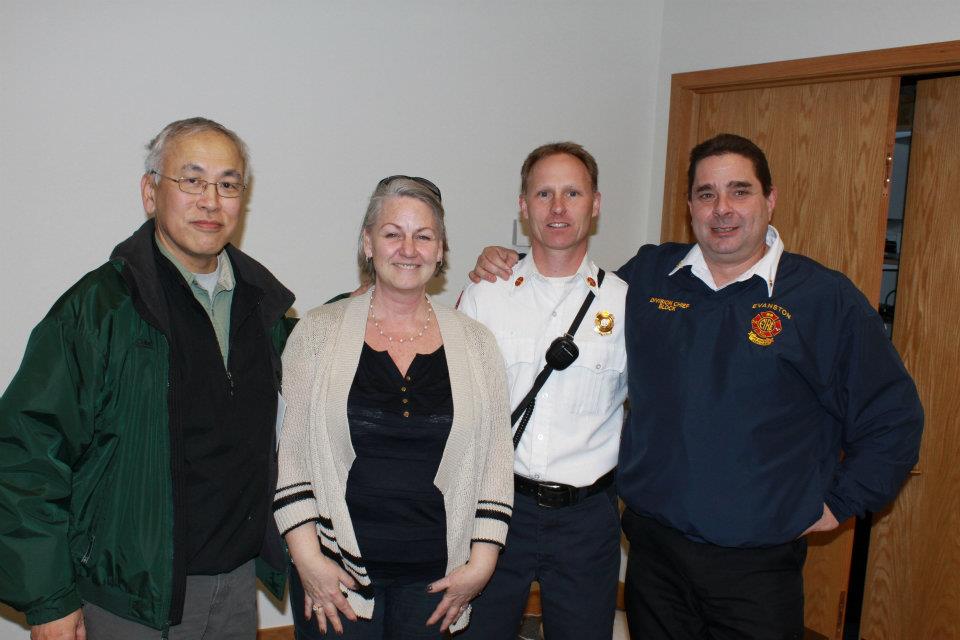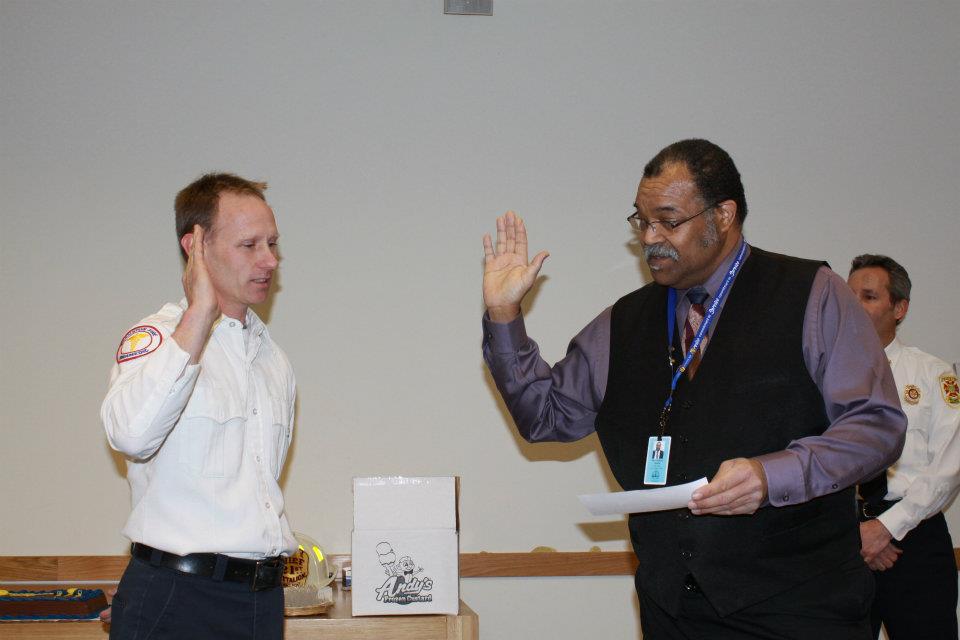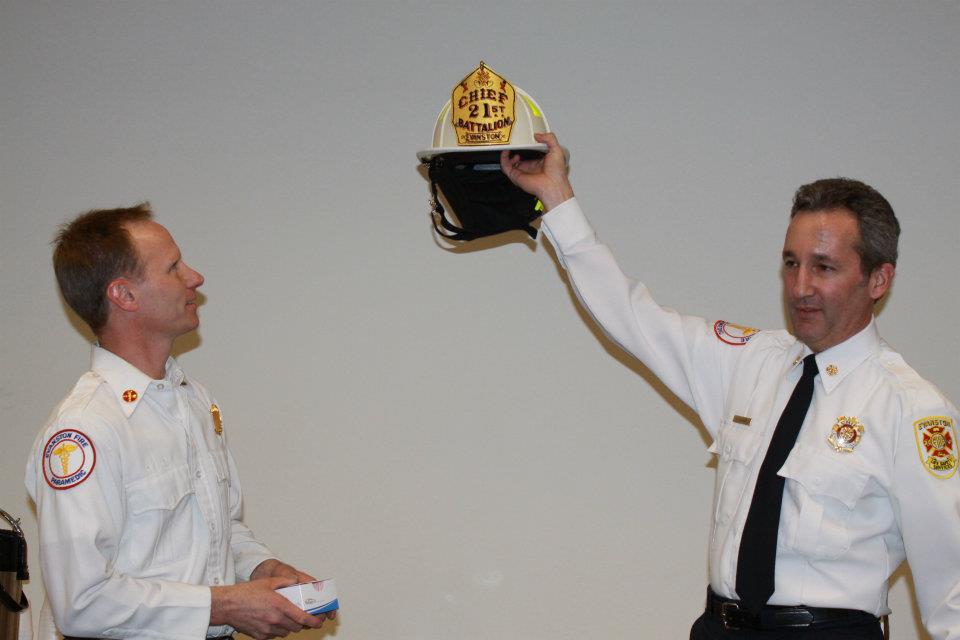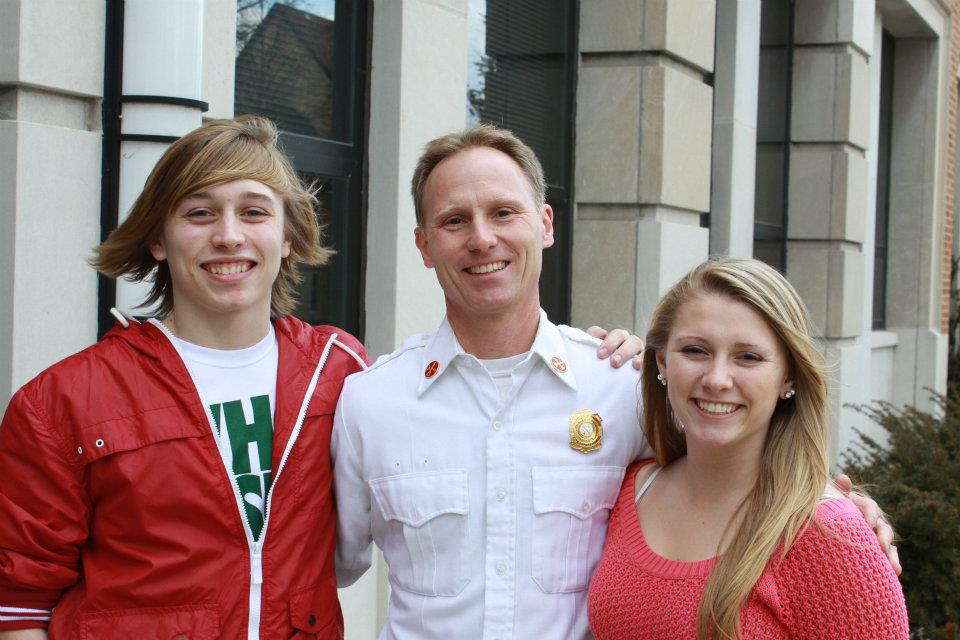 Northwestern University Purchases Ambulance for Evanston
Posted on Monday Aug 08, 2011
Northwestern University will donate a new ambulance to the City of Evanston, Mayor Elizabeth Tisdahl announced today. "We appreciate very much the continued support of Northwestern University for our fire and life safety department," Mayor Tisdahl said. "Northwestern University is a wonderful part of our community, and we are grateful to receive this generous donation." The new ambulance, which will be an advanced life support transport unit, will go into frontline service this fall, as soon as the licensing process is completed," said Greg Klaiber, Evanston Fire and Life Safety Services Chief. "The new ambulance will replace a current unit that the city will then keep in reserve for use as needed. The new ambulance includes a power cot, power oxygen lift and a heart monitor/defibrillator" "This addition to our fleet will enable us to continue to provide excellent, responsive service to Evanston residents," Klaiber said. Northwestern will donate approximately $253,000 to the City, which will cover the entire cost of the new ambulance. In 2009 Northwestern donated $550,000 to the City for the purchase of a new fire engine, which went into service the following year. "We're very pleased to continue to support the City of Evanston in its efforts to provide services that benefit the entire Evanston community, including Northwestern students, faculty and staff," said Northwestern President Morton Schapiro. "Northwestern and the City are partners in many important efforts, such as mutual police support, so we hope this donation further solidifies what is an already productive relationship."
Presentation on HB3044 at the 2011 Fran Gambro Legislative Conference.
AL2011HB from Shawn Gillis on Vimeo.
_____________________________________________________
Thank you to Northwestern University on the generous donation of our latest piece of Fire Apparatus. Although there will be time to add equipment, hose, computer, and other necessary equipment which will take about a month, the new Engine 23 should be in service sometime in October at Fire Station 3, 1105 Central Street. (The rig did go into service that October.)
_____________________________________________________
_____________________________________________________
Evanston Fire Department was established by ordinance in 1875, for which the men and women who serve and have served, have since been protecting lives and property to the City of Evanston for 135 years.
_______________________________________________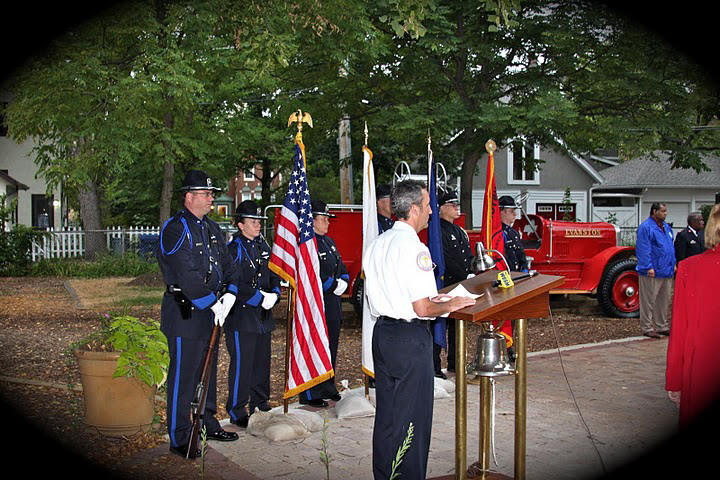 Evanston fire and police honor guards stand by as Chief Klaiber begins the September 11 Memorial Service at Fireman's Park. Guest speakers, dignitaries, firefighters, police officers, and residents joined in a ceremony to remember those lost on 9/11/01.
_________________________________________________
The Fireman's Park Rededication Ceremony was held on Thursday, July 22, 2010. Local 742 would like to extend our heart felt gratitude to all those who came to help us rededicate this special park. Thanks to the supporters, the neighbors, the local members who worked countless hours, those who purchased bricks and benches, those who came to the ceremony from other Local's and the AFFI Honor Guard, Evanston Honor Guard, Evanston Police Department Honor Guard, all of our distinguished guests and speakers, Interim Chief Greg Klaiber, and all who came to honor those who have selflessly sacrificed their lives in the Line of Duty and our fallen comrades' that have served the Evanston Fire Department. It was a wonderful tribute, and we hope the neighborhood enjoys the park for years to come.
Although "Friends of Firemen's Park" is now completed, your opportunity to purchase bricks for the park has not run out. Orders are still being taken.
Your name or loved one will be deeply engraved into a brick and will
permanently be displayed at Firemen's Park, located at Simpson and Maple.
What a way to leave a lasting impression.
All Proceeds will used to maintain Firemen's Park
Click HERE for your Order Form now!

_____________________________________________________
Evanston Firefighters Local 742 and the Evanston Fire Department would like to thank all of our officials who attended the 2009 Fire Ops 101. We hope you gained a valuable insight to what we do, and why the funding for day to day operations is so vital to providing life safety services to the citizens of Evanston. Thank you to all of the Local 742 Members who attended to help organize, especially the hard work of Brother Tim Gobat. This was a great event. Click here to read the article from the Evanston Review on the event.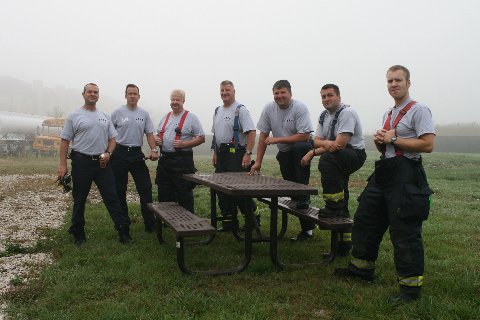 _____________________________________________________
Fire Ops 101 videos:
http://www.youtube.com/watch?v=aR9clmdV3Ak

________________________________________________________
The following two clips are on YouTube that give the radio traffic of a Houston Captain that was trapped in a high rise fire.
Houston Firefighter Mayday 1 of 2 TheBravestOnline.com
\
http://www.youtube.com/watch?v=JpJjl_R-98M
Houston Firefighter Mayday 2 of 2 TheBravestOnline.com
________________________________________________________
Click Here to view the donated art from Bob & Nina Nelson.
________________________________________________________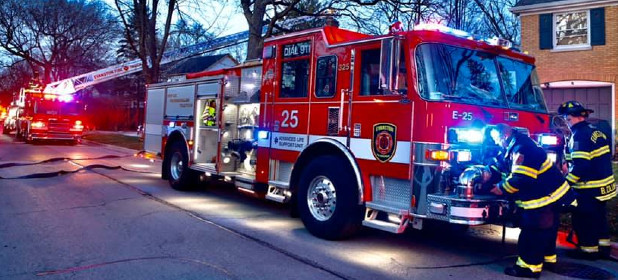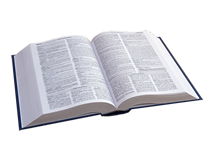 Saving Lives Protecting Property