Annual Marty Leoni Fun Run

Marty Leoni Memorial Fun Run
Sunday, October 31st, 2021 (Shift 2/Black)

The Marty Leoni Memorial Fun Run has been set for
Sunday,
October 31st
! Click
HERE
for the flyer that provides all the information for the event. Even if you're not interested in running/walking the course, feel free to join us to support the cause. There will be parking available on Lake Shore Blvd.
We are trying something new this year for ordering t-shirts. Just click on the link below to complete a shirt order. If you are having any technology issues, feel free to just email me or call me directly with your order (name, desired quantity and desired size).
Please give the payment for shirts to:
Fochs for Shift 1 and HQ
Philipaitis for Shift 2
Morel for Shift 3
Cash or check payable to
The Marty Leoni Memorial Fund
is the preferred method of payment.
Evanston Fire Department Announces Promotions
EVANSTON, IL - The Evanston Fire Department is pleased to announce the promotion of Fire Captain Tim Migon to the rank of Battalion Chief, Fire Apparatus Operator Kyle Zaremba to Fire Captain, and FF/Paramedic Dan Bailey to the rank of Fire Apparatus Operator, effective May 27, 2021.
Battalion Chief Tim Migon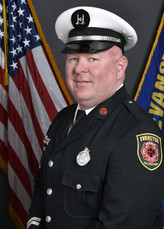 Battalion Chief Tim Migon joined the Evanston Fire Department in 2002. While rising through the ranks, Battalion Chief Migon served as a member of the Evanston Fire Department Dive Rescue Team for the last 17 years, a member of the Evanston Swift Water Rescue Team, and currently serves on Illinois Water Rescue Task Force 1. In 2019, Battalion Chief Migon was deployed twice with Illinois Water Rescue Task Force 1 to aid disaster stricken residents impacted by record flooding in southern Illinois.
Battalion Chief Migon has also served as an Evanston Fire Investigator and Inspector. Tim holds a Bachelor's Degree in Fire Science.
Fire Captain Kyle Zaremba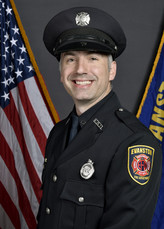 Fire Captain Kyel Zaremba joined the Evanston Fire Department in 2006. He previously served with the Lake Forest Fire Department. Captain Zaremba is a member of both the Evanston and MABAS Technical Rescue Teams and has been an FAO for 7 years. He served as Secretary, Treasurer and is currently a Trustee for Evanston Firefighters Local 742. Captain Zaremba also serves as a CPR Instructor.
Fire Apparatus Operator Dan Bailey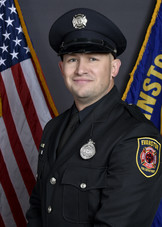 Fire Apparatus Operator Dan Bailey joined the Evanston Fire Department in 2011. He previously served the Countryside Fire Protection District as a part time firefighter beginning in 2006. He is a Paramedic Preceptor, Surface Water Rescue Team member, EMS Committee member and Acting Captain. F.A.O. Bailey is a Fire Officer I, Fire Instructor II, Advanced Firefighter, Rope Operations Technician, Vehicle Machinery Operations Technician, Hazardous Materials Operations Technician, and Fire Apparatus Engineer.
Battalion Chief William Muno to Deputy Chief of Operations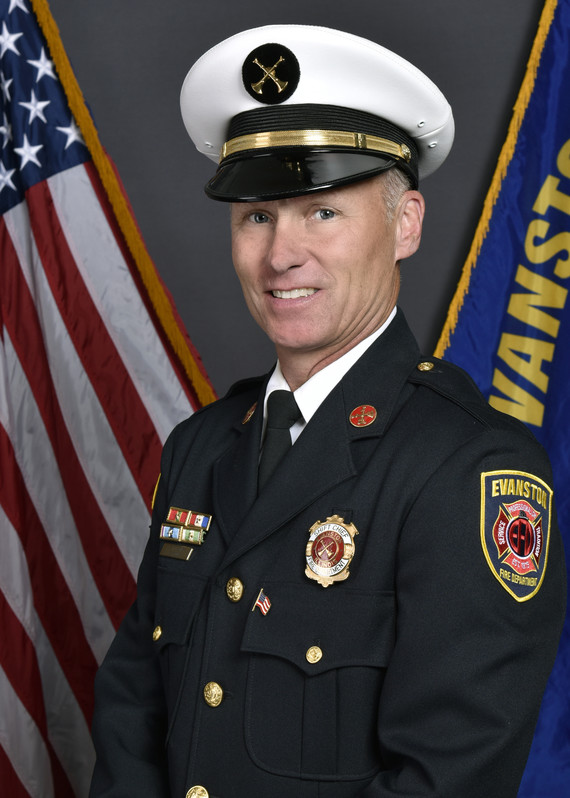 May 3, 2021-
EVANSTON, IL - Chief Muno has served the residents of Evanston with pride and distinction over the past 34 years. Battalion Chief Muno's promotion to Deputy Chief will be effective May 10, 2021.
Chief Muno's leadership in the department has been extensive, having served as a Fire Captain for 16 years and Battalion Chief for the last 9 years.
Bill has proven to be a dedicated member of the department, working tirelessly to improve the department's day-to-day operations. He has provided training opportunities for Fire department staff through his participation in the Training Committee for nearly ten years, helped our members operate more safely through his involvement with the Safety Committee since 1996, and has shaped departmental guidelines by serving on the Standard Operating Guideline Committee since 2016. Bill served as a paramedic preceptor, a role proven vital to helping newer paramedics develop the skills necessary to be effective in the field. Additionally, Chief Muno served as an active member of the department's Hazardous Materials Team for five years.
Bill's commitment to professional development is evident in the numerous training courses, certifications, and college credits completed. Chief Muno completed the Fire Officer I and II certifications, attended numerous command classes, and completed various special operations training. Chief Muno currently holds an Associate's Degree from Oakton College.
Deputy Chief Muno's vision for the Fire department is to "have every member trained to the degree necessary to effectively manage the challenges presented and to benefit from modern-day advancements in the field."
"Chief Muno is one of the most knowledgeable people I know in the fire service," said Fire Chief Paul Polep. "Everyone in this organization will greatly benefit with Chief Muno in this senior leadership role."
Deputy Chief Paul Polep named as Chief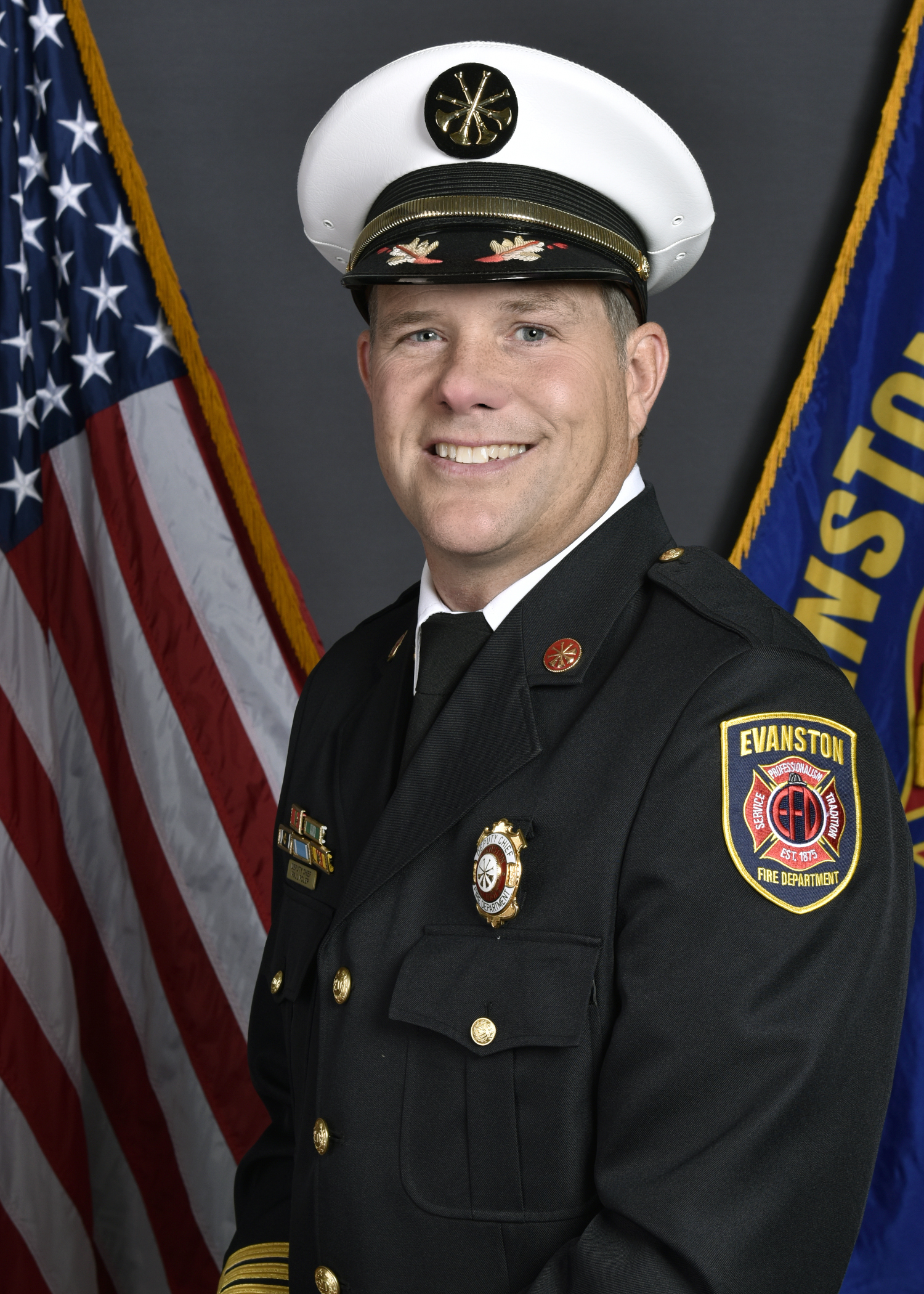 Fire Chief Paul Polep is a 24-year veteran of the department with more than 30 years of fire service experience. Polep began his service with the Evanston Fire Department in 1996 and rose through the ranks, serving as captain, division chief of emergency medical services, deputy chief of operations,and most recently as interim fire chief, a position he has held since January 2021.
Prior to his service in Evanston, Polep served as lieutenant and as a firefighter/paramedic with McHenry Township Fire Protection District. He holds an associate degree in Applied Fire Science from McHenry County College, and has achieved Chief Fire Officer Designation from the Office of the Illinois State Fire Marshal. He is a resident of Evanston.

Local #742 Celebrates Black History Month
As part of our celebration of Black History Month, Local 742 is remembering Chief Sanders Hicks. Chief Hicks was the Evanston Fire Department's first Black firefighter, he was hired in 1950 and then went on to become Evanston's Fire Chief in 1980. His groundbreaking career was not an easy one, but he conquered adversity and challenge after challenge, as he put it: "Because I love the job." Please see this article for more information on Chief Hicks.
To commemorate Chief Hicks and Black History Month, Local 742 and
Fresh Prints of Evanston
have designed T-Shirts that are for sale. All proceeds from the T-Shirts will be donated to the
Chessmen Club of the North Shore, Inc.
an organization that provides educational scholarships for Black students in our community. T-Shirts are $15.00 and are available for local pick up only, if interested in purchasing a shirt, please private message our Facebook account
https://www.facebook.com/EvanstonFireFightersLocal742
.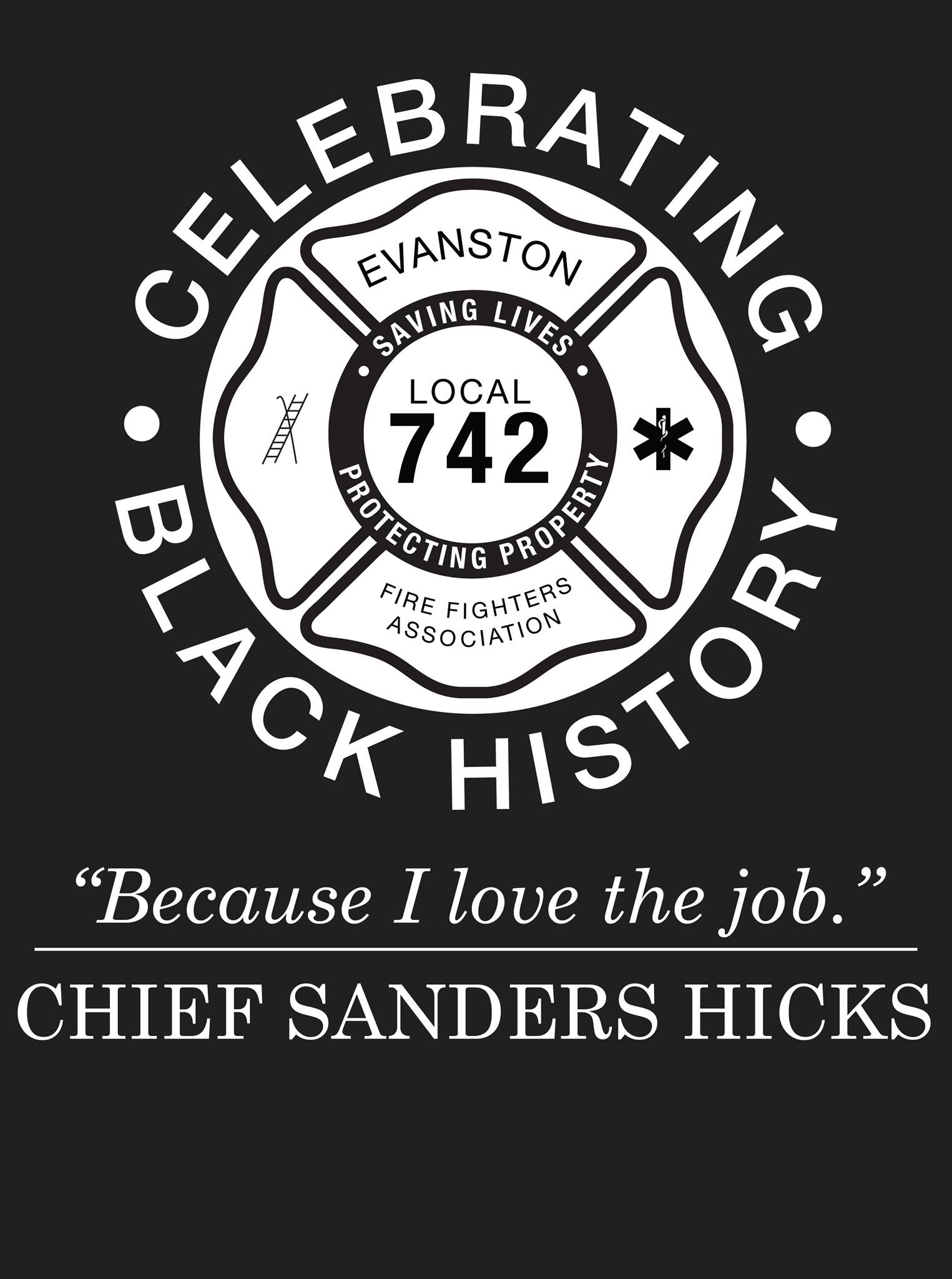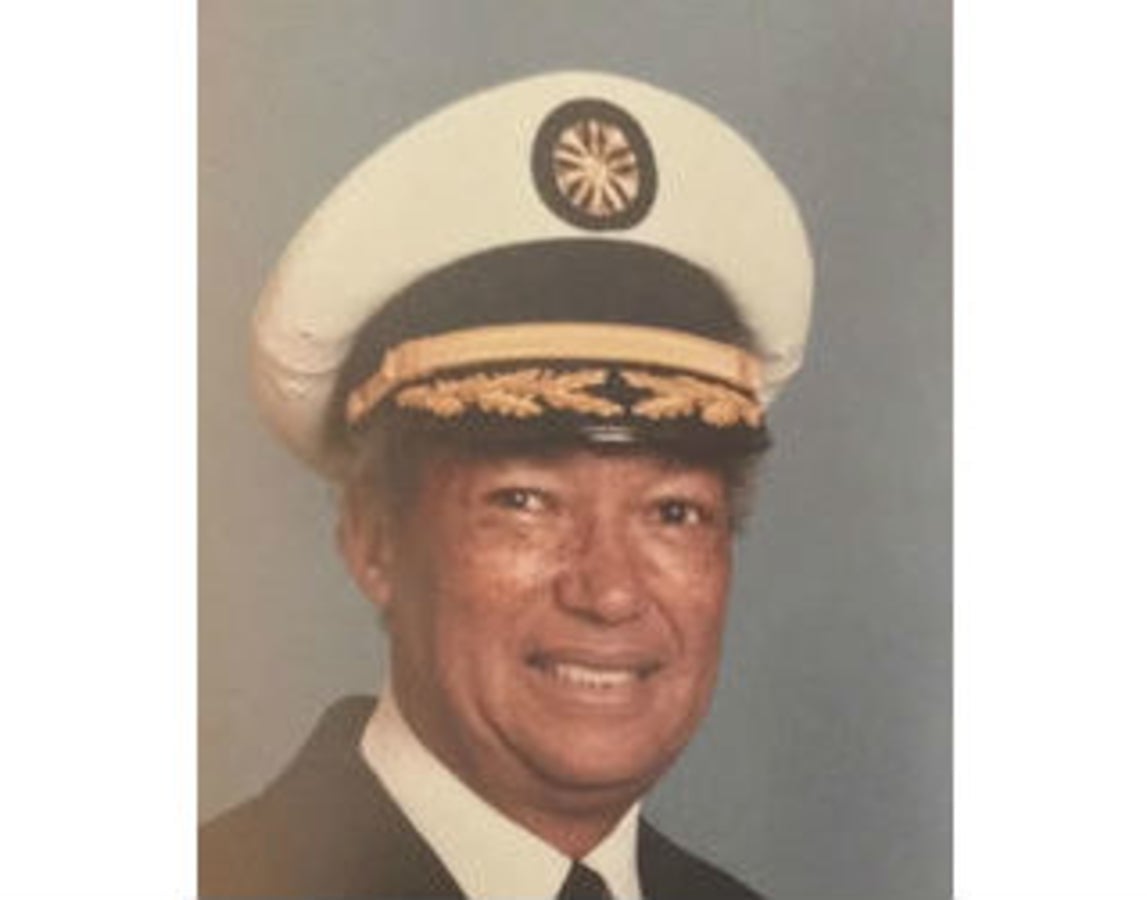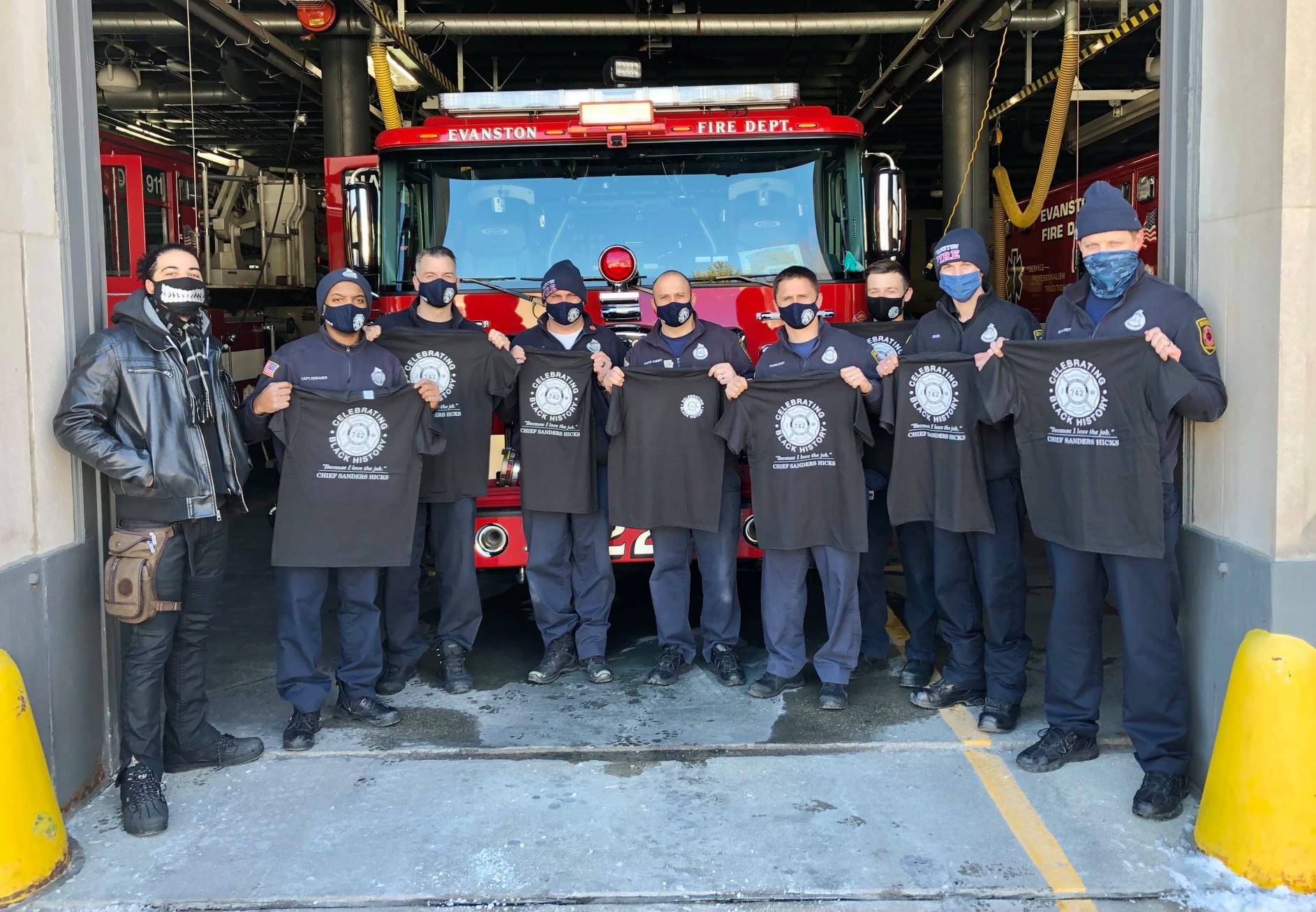 Evanston Fire Fighters Support MDA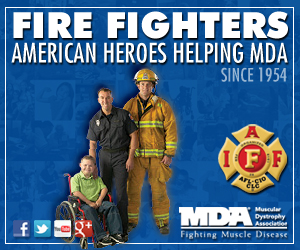 Never Forget 9/11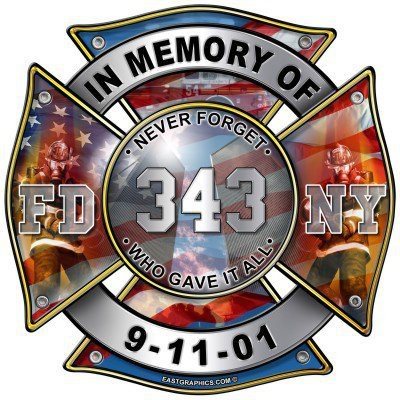 Thank you for visiting EFD Local 742!