Evanston Fire Department Creates Two New Field Chief Positions
Thursday, June 1, 2023-
The Evanston Fire Department is pleased to announce the promotion of Fire Captain Sean Malloy to Field Chief of Special Operations and Fire Captain Megan Kamarchevakul to Field Chief of Emergency Medical Services (EMS), effective June 5, 2023. Both highly decorated veterans of the Evanston Fire Department, these members exude professionalism and impeccable service to the Evanston community.
To improve efficiency and specialization within the department, the Evanston Fire Department has developed these positions to allow fire department staff to customize programming and response capabilities in support of Evanston Lakefront, special operations, and emergency medical services (EMS). These promotions signify the historic expansion of fire department operations, representing a move necessary to meet the rising demands of our growing community.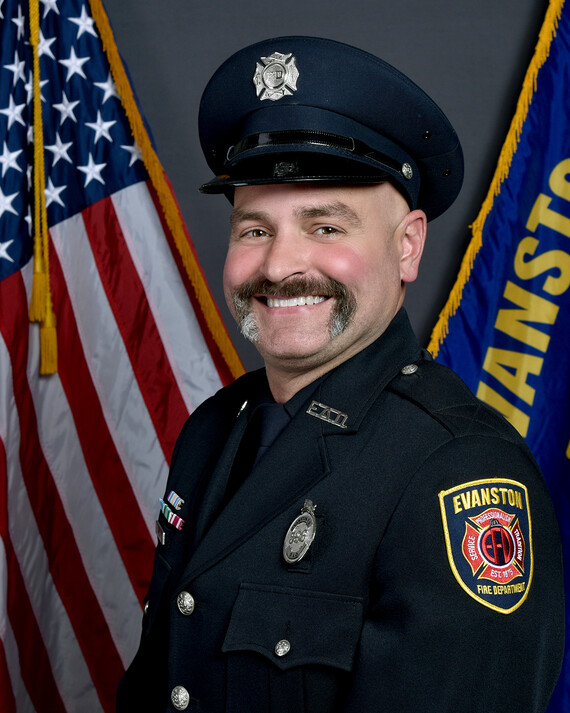 Field Chief of Special Operations Sean Malloy is a highly trained individual who has exhibited remarkable dedication to the betterment of the Evanston Fire Department. Devoting considerable effort to mastering the skills necessary to support life safety operations, Sean specializes in ice and water rescue, high angle and trench rescue, and hazardous materials operations.
Malloy has been instrumental in supporting lakefront safety and was recently awarded a commendation for saving lives during a lakefront rescue in 2022 while assigned to Evanston Fire Department's new Marine 21 watercraft. Sean serves on the MABAS Division 3 Dive and Evanston Fire Department Surface Water Rescue teams. He was awarded for exceptional work during his deployment to downstate Hardin, Illinois, for ten days as part of a MABAS Division 3 response to support emergency response efforts and assist evacuees during the record flooding, and also for the Mississippi and Illinois River flooding response in 2019.
Sean has served as the MABAS Division 3 High Angle/Trench Rescue Technical Team leader. He is a Rescue Specialist for Illinois' Urban Search and Rescue (USAR) Team. His extensive technical rescue training shows Sean's commitment and passion for the fire service. He is also an active MABAS Division 3 Hazardous Materials Team member.
Malloy's professional and academic pursuits have led to a distinguished career, receiving technician status in Rope and Confined Space Access and instructor status through the Office of the State Fire Marshall (OSFM) in Confined Space, Rope Technician, and Structural Collapse Technician. Sean also serves as an instructor for the Society of Professional Rope Access Technicians (SPRAT).
Malloy holds a Bachelor of Science in Fire & Safety Engineering Technology from the University of Cincinnati.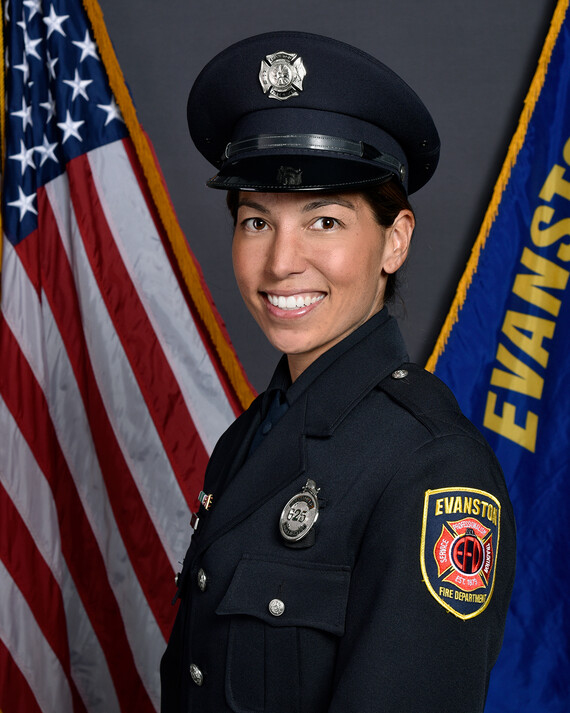 Field Chief of Emergency Medical Services Megan Kamarchevakul has proven to be a dedicated department member, working tirelessly to improve the department's delivery of emergency medical services and leading important community engagement and public education programming.
As an EMS coordinator, Kamarchevakul was instrumental in implementing the latest technologies to improve patient care in the field, including advancements in video laryngoscope technology and cloud-based patient reporting and communications systems that have helped to improve intubation success rates and EMS trend analysis, respectively.
Her steadfast commitment to personal and professional development includes receiving certifications as an American Heart Association (AHA) cardiopulmonary resuscitation (CPR) and First Aid Instructor, a National Association of EMS Educators (NAEMSE) certified instructor, and a Fire and Life Safety Educator. She also served as a paramedic preceptor for eight years and is an active member of the department's Surface and Underwater Rescue Teams.
Regarding community engagement, Kamarchevakul has served as the leader of the department's Fire Explorer Program since its inception in 2013 and as an instructor in the EFD/Evanston Township High School's Public Safety Program. Both programs teach Evanston youth about a career in firefighting and EMS.
Kamarchevakul holds a Master of Science degree in Biology from Northeastern Illinois University and a Bachelor of Science degree in Biology and Secondary Education from the University of Evansville.
Megan is excited about taking on this new role. She is eager to apply her passion for EMS, teaching, and in-field experience to enhance the department's emergency medical services and response capabilities.
Both Megan and Sean's extraordinary commitment and dedication to the profession will undoubtedly help them perform their role at a high level.
Evanston Fire Department Announces Promotion of Four Distinguished Members


Left to Right: Fire Captain Tom Howard, Fire Captain Jamaine Collins, Fire Apparatus Operator Kevin Rodriguez, Fire Apparatus Operator Johan Haglund
Friday, June 2, 2023- The Evanston Fire Department is pleased to announce the promotion of Fire Apparatus Operators (FAO) Tom Howard and Jamaine Collins to the rank of Fire Captain, and FF/Paramedic Kevin Rodriguez and Johan Haglund to the rank of FAO, effective Monday, June 5. Their dedication and commitment to serving the community have been well reflected over their 91 years of combined experience. These distinguished members have been a tremendous asset to our department and will undoubtedly do well serving in their new capacity.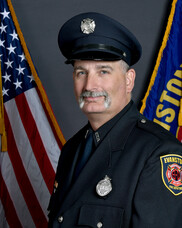 Tom Howard was promoted from fire apparatus operator to fire captain. Fire Captain Tom Howard started his career in the fire service in 1988 as a paid on-call firefighter in the Willow Springs Fire Department. Bridgeview Fire Department hired him in 1994, where he trained to receive his paramedic license. On December 6, 1999, Tom joined the Evanston Fire Department as a lateral transfer, where he has been an active MABAS Division 3 High Angle/Trench Rescue member. Tom was promoted to the rank of FAO in 2008. He is a highly decorated veteran whose professionalism and commitment to serve are hallmarks of his service in Evanston.
Tom has been instrumental in supporting mental health and wellness initiatives for firefighters and founded the Evanston Fire Department's first Peer Support Team. Howard served as a faith coordinator for Illinois Firefighter Peer Support (ILFFPS) in 2015, where he was later promoted to executive director from 2017 through 2022. In April of 2022, Tom founded and currently operates as director for the First Responder Peer Initiative. In his spare time, Tom hosts a podcast entitled The Fire Inside. Tom received a Master's in Divinity from Northern Theological Seminary in 2016.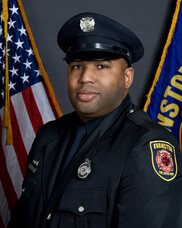 Jamaine Collins was promoted from fire apparatus operator to fire captain. Fire Captain Jamaine Collins started his fire career in 2006 when he joined the Stickney Fire Department. In 2007, Jamaine joined the Lincolnwood Fire Department, where he received his paramedic license. He joined the Evanston Fire Department on September 12, 2011, and was later promoted to FAO in May 2022. Jamaine has received numerous awards for his exceptional skill and professionalism throughout his career. Jamaine's extensive training and commitment to the profession will serve him well in his new role.
Collins is a dedicated professional who is highly trained and holds numerous specialized training certifications. He is a MABAS Division 3 Hazardous Material and Technical Rescue Teams member. Jamaine received his Fire Officer II and Fire Instructor II certifications. He was also a Northeastern Illinois Public Safety Academy (NIPSTA) instructor.
Jamaine is an active participant in the department and currently serves as a member of the emergency medical services (EMS), standard operating guidelines (SOG), and Detail Committees. He was also elected and serves as Treasurer for Evanston Firefighters Local 742's Executive Board.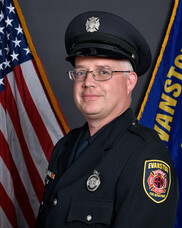 Kevin Rodriguez was promoted from firefighter/paramedic to fire apparatus operator. FAO Kevin Rodriguez started his career in the fire service in 2001 and received his paramedic license in 2003. Kevin joined the Evanston Fire Department as a FF/paramedic on October 3, 2005. Kevin is a decorated veteran firefighter who is regarded as dependable and is trusted to do well in his new role.
Kevin has completed numerous training hours, receiving his Hazardous Materials Operator and Firefighter II certificate in 2002. In 2015, Kevin received his Fire Apparatus Engineer (FAE) and Fire Safety Vehicle Operator (FSVO) certificates. Rodriguez also helped other Evanston firefighters receive their paramedic licenses by sharing his expertise and providing mentorship over departmental members while serving as EMS coordinator.
Kevin received his Bachelor of Fire Science Administration from Waldorf University in 2019.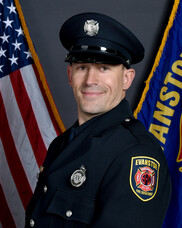 Johan Haglund was promoted from firefighter/ paramedic to fire apparatus operator. FAO Johan Haglund has served the residents of Evanston since September 5, 2006, when he received his firefighter and paramedic certifications. FAO Haglund is a highly decorated veteran firefighter who has exhibited a steadfast commitment to serving Evanston residents and supporting department members' health and wellness.
Johan is an active and highly trained member of the department. He received his Fire Apparatus Engineer (FAE) and Fire Safety Vehicle Operator (FSVO) certificates in 2013, served as an EMS coordinator for three years, and collaboratively partnered with Evanston Fire and Police command staff to conduct Rescue Task Force (RTF) exercises in support of active shooter training. Johan is an active member of the MABAS Division 3 Trench Rescue Team. Johan received technician-level certifications in trench rescue, confined space, and structural collapse and operations-level certification in rope rescue. He is also an active member of the personal watercraft team (PWC) and recently received two commendations for conducting heroic lakefront rescues in 2022.
Johan has been instrumental in supporting health and wellness initiatives for firefighters, serving as a Peer Fitness Committee member for six years. This initiative supported firefighter health and fitness through weightlifting, strength training, flexibility, mobility testing, and nutritional counseling. Johan is well-trained in these disciplines and has supported our members tremendously throughout this program.
Evanston First Responders Foundation Donations Provide Life-Saving Equipment for Evanston Fire Department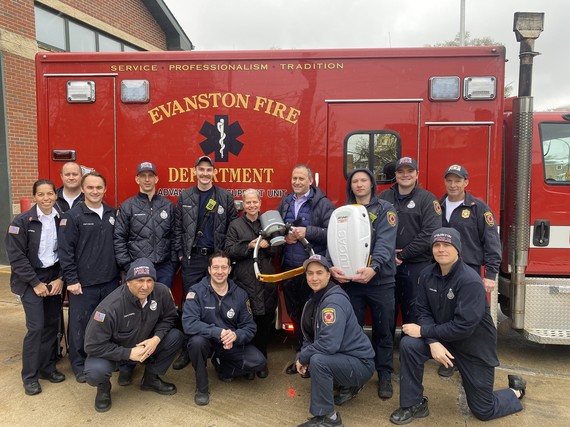 The Evanston Fire Department has received a generous donation from the Evanston First Responders Foundation (EFRF), which has purchased three LUCAS devices for each ambulance in honor of Oliver Brown Leopold.
The LUCAS device is a portable chest compression system that provides consistent, high-quality chest compressions during cardiac arrest. This device is critical for the successful resuscitation of patients, as it allows first responders to maintain uninterrupted compressions, which significantly increases the patient's chance of survival.
The Evanston Fire Department is grateful for the designated funds provided by the Brown Leopold family and friends that were made to the EFRF in honor of Oliver. Adding these LUCAS devices to each front-line ambulance will enhance the department's ability to provide the highest quality care to the community. It will undoubtedly make a significant difference in the effort to save lives.
"We greatly appreciate the Evanston First Responders Foundation and cannot thank the Brown Leopold family enough for their generous donation," said Fire Chief Paul Polep. "The Foundation's commitment to our department and the community we serve is invaluable, and we are honored to receive this life-saving equipment in honor of Oliver."
The Evanston First Responders Foundation is a nonprofit organization that provides financial assistance to first responders in Evanston. Their mission is to enhance the level of care provided to the community by providing necessary equipment and training to the police and fire departments.
New Smoke Alarm Law Begins Jan. 1, 2023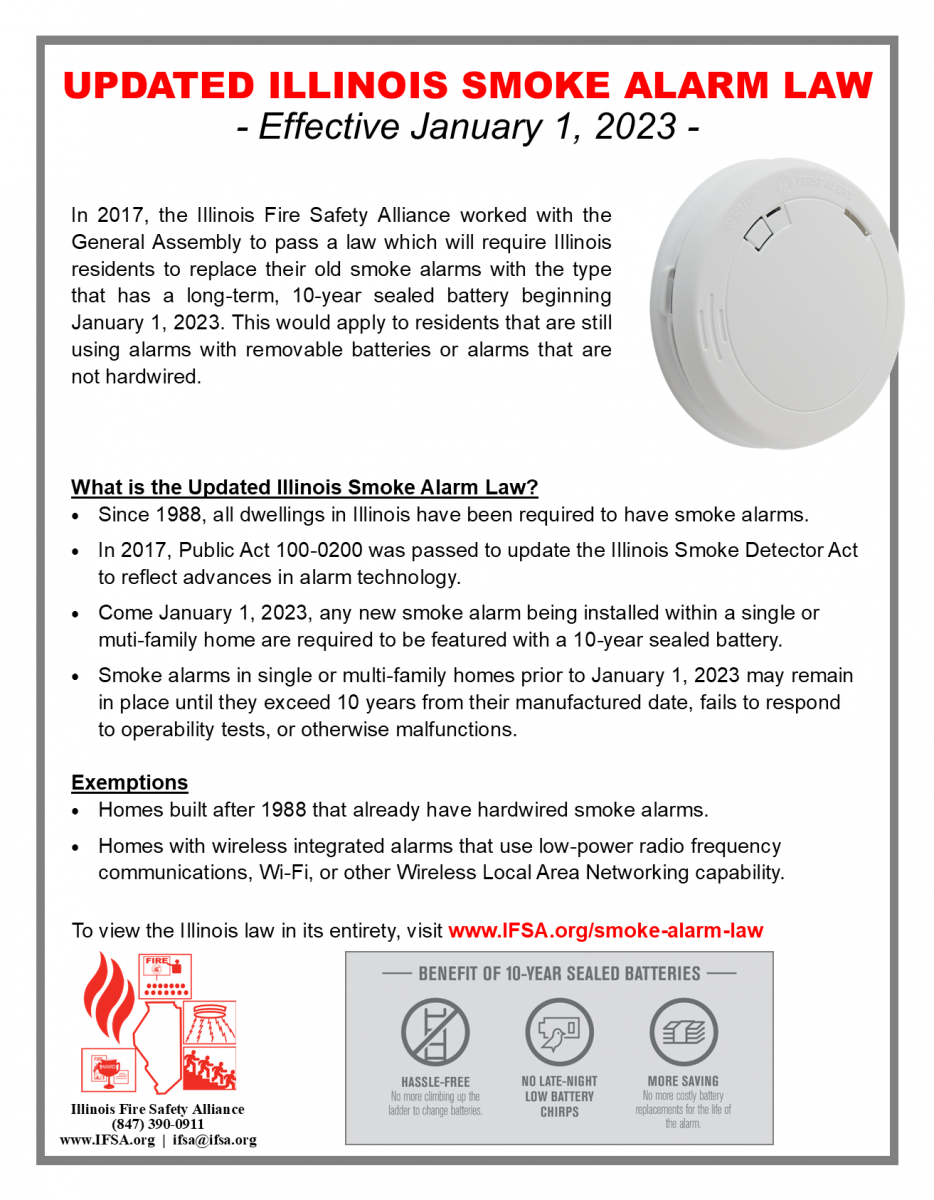 2022 Marty Leoni Award Winner
Evanston Fire Department Honors ETHS Student Charlie Kremin with Marty Leoni Award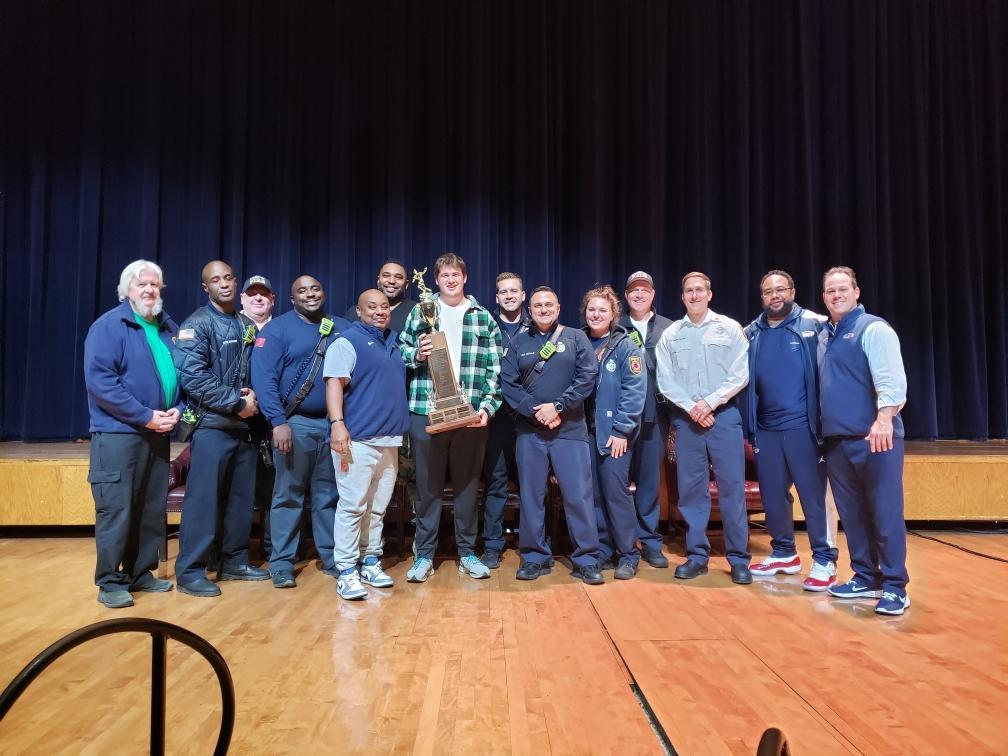 EVANSTON, IL - On November 1, Evanston Township High School student Charlie Kremin was recognized by Evanston Fire Department's Local 742 as this year's Marty Leoni Award recipient, receiving a $2,000 scholarship to be applied towards college educational expenses.
The scholarship was created in 1986 in honor and memory of Marty F. Leoni by his family, friends, and fellow firefighters. Marty was born and raised in Evanston and became a firefighter for the City of Evanston on March 2, 1981. He died in the line of duty at a fire at 1927 Jackson St. in Evanston on July 22, 1985, while trying to save an infant trapped inside a burning structure.
The scholarship is awarded annually by an ETHS-led committee to one student who excels academically, has been an accomplished football player for a minimum of three years, and represents characteristics similar to Marty Leoni. These qualities include integrity, a demonstrated commitment to athletic and academic excellence, and service as a leader in their organization. The scholarship is intended to support the student's professional development, honoring Marty's legacy and pursuit of excellence.
Annual fundraising activities sponsored by Evanston Fire Department (EFD) Local 742 include an annual golf outing and Marty Leoni Fun Run. Since 1986, EFD Local 742 has awarded over $47,000 in academic scholarships. Former Division Chief Ronn Gannon, a 30-year veteran of Evanston Fire Department, said that Leoni was an exemplary member of the department and that "it would be a travesty if we forgot the sacrifice Marty and his family made on that dreadful day."
Gannon highlights the great efforts made by firefighters, friends, and family in honor of Marty Leoni, stating we will continue to fundraise and raise awareness of the everyday sacrifices firefighters make in their profession.
To donate to the Marty Leoni Memorial Fund, you can use the Zelle app and use phone number (847)910-7665.
Evanston Fire Fighters Support MDA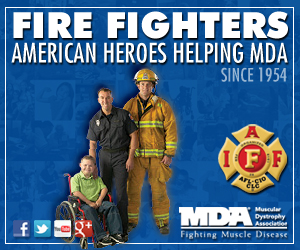 Never Forget 9/11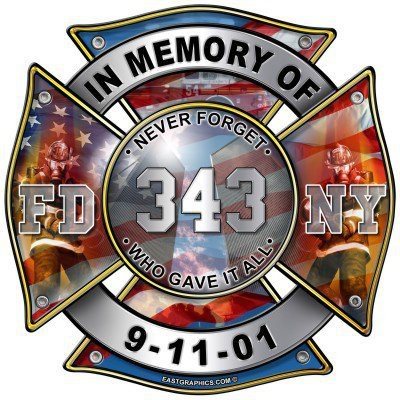 Thank you for visiting EFD Local 742!