MARTY F. LEONI MEMORIAL GOLF OUTING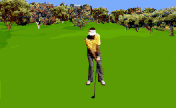 THURSDAY- SEPTEMBER 29, 2022
TIME/START: 11:00 a.m. Shotgun Start / Scramble Format
LOCATION: Twin Lakes Country Club 1230 Legion Drive Twin Lakes, WI 53181 262-877-2500 PRICING: $100 per person (includes golf/cart, a beer & brat at turn, and prime rib dinner)
ALL PROCEEDS BENEFIT THE MARTY LEONI MEMORIAL FUND
Please submit RSVP by September 14th to:
Text or submit completed form and payment to: Chris Fochs- 847-313-9675 (Shift #1/Gold) Dan Philipaitis- 847-866-5930 (Shift #2/Black) Mick Morel- 847-866-5910 (Shift #3/Red) Ronn Gannon- 847-966-7665
Click HERE for the flier.
37th ANNUAL MARTY F. LEONI MEMORIAL FUN RUN

SUNDAY- OCTOBER 9, 2022
TIME: 8:30 AM TO 12:00 NOON
START: 8:30 AM @ Fire Department Headquarters (909 Lake Street, Evanston)
FINISH: Elliott Park- Hamilton and Lake Shore Drive Distance: Approximately 3 miles
Click HERE for the flier.
Evanston Fire Explorer Program
The Evanston Fire Department will host an informational meeting for community members to learn more about its Fire Explorer Program on Wednesday, April 6, 7 p.m., at the Evanston Fire Department Headquarters, 909 Lake Street.
The coed Fire Explorer Program launched in 2012, offering young adults from 14 to 20 years old the opportunity to work and learn from Evanston Fire Department professionals. The program meets twice a month for approximately two hours at one of the five Evanston Fire stations.
Throughout the program, participants learn about emergency protocols, firefighting procedures, and department policies, while gaining hands-on experience with real life fire and emergency medical equipment.
To learn more about the Fire Explorer Program, visit our website or join us on Wednesday at Fire Department Headquarters. If unable to attend, please contact Captain Megan Kamarchevakul for more information.
Congrats New Local #742 Member
Congrats to Local 742's newest member, Enrique Gonzalez, on his graduation from NIPSTA's Fire Academy. He's pictured here (2nd from left) with some of his fellow graduates who are members of other Locals. Candidate Gonzalez's road to becoming an Evanston Firefighter/Paramedic is just beginning. Next, he'll start his candidate year on shift for the Evanston Fire Department. His first year will focus on training on all of the skills he's learned in academy, along with some new ones special to the Evanston Fire Department. As he progresses, he'll be tested on them to ensure he's fully grasping them, and growing as a Firefighter. If he successfully completes his year of Candidacy, he'll become an Evanston Firefighter. Following that first year, he'll go to Paramedic school, where he'll learn all the medical skills required of an Evanston Firefighter/Paramedic. While it will be a busy, and sometimes tough first few years, Enrique has the full support of the entire Local 742! Best of luck Candidate Gonzalez, we're looking forward to helping you learn, grow, and succeed!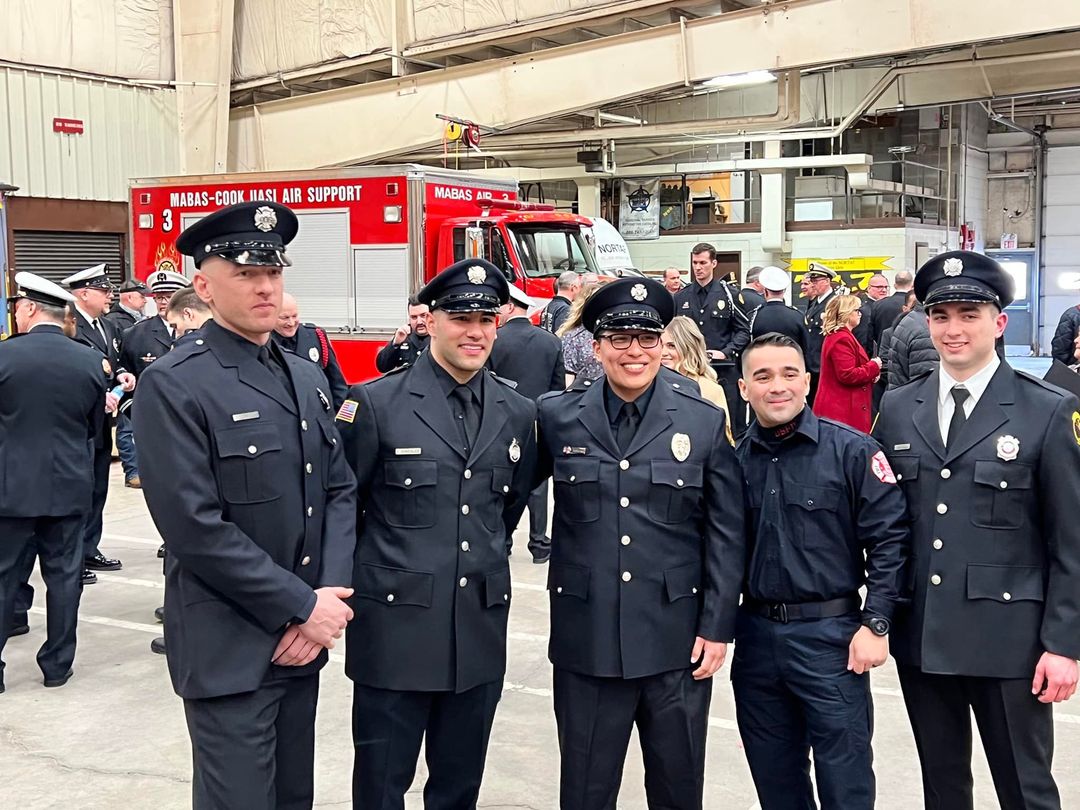 Local #742 Celebrates Black History Month
As part of our celebration of Black History Month, Local 742 is remembering Chief Sanders Hicks. Chief Hicks was the Evanston Fire Department's first Black firefighter, he was hired in 1950 and then went on to become Evanston's Fire Chief in 1980. His groundbreaking career was not an easy one, but he conquered adversity and challenge after challenge, as he put it: "Because I love the job." Please see this article for more information on Chief Hicks.
To commemorate Chief Hicks and Black History Month, Local 742 and
Fresh Prints of Evanston
have designed T-Shirts that are for sale. All proceeds from the T-Shirts will be donated to the
Chessmen Club of the North Shore, Inc.
an organization that provides educational scholarships for Black students in our community. T-Shirts are $15.00 and are available for local pick up only, if interested in purchasing a shirt, please private message our Facebook account
https://www.facebook.com/EvanstonFireFightersLocal742
.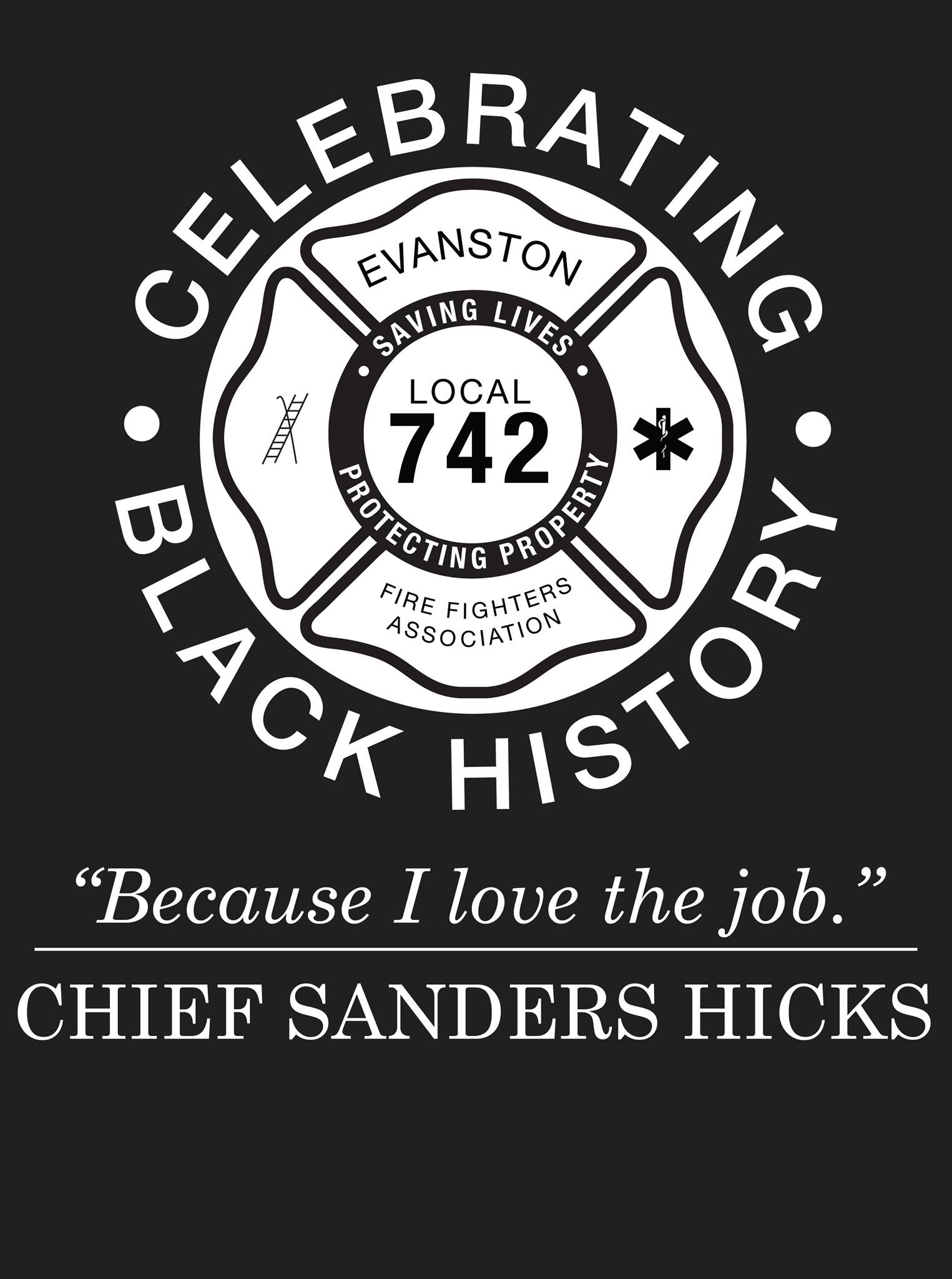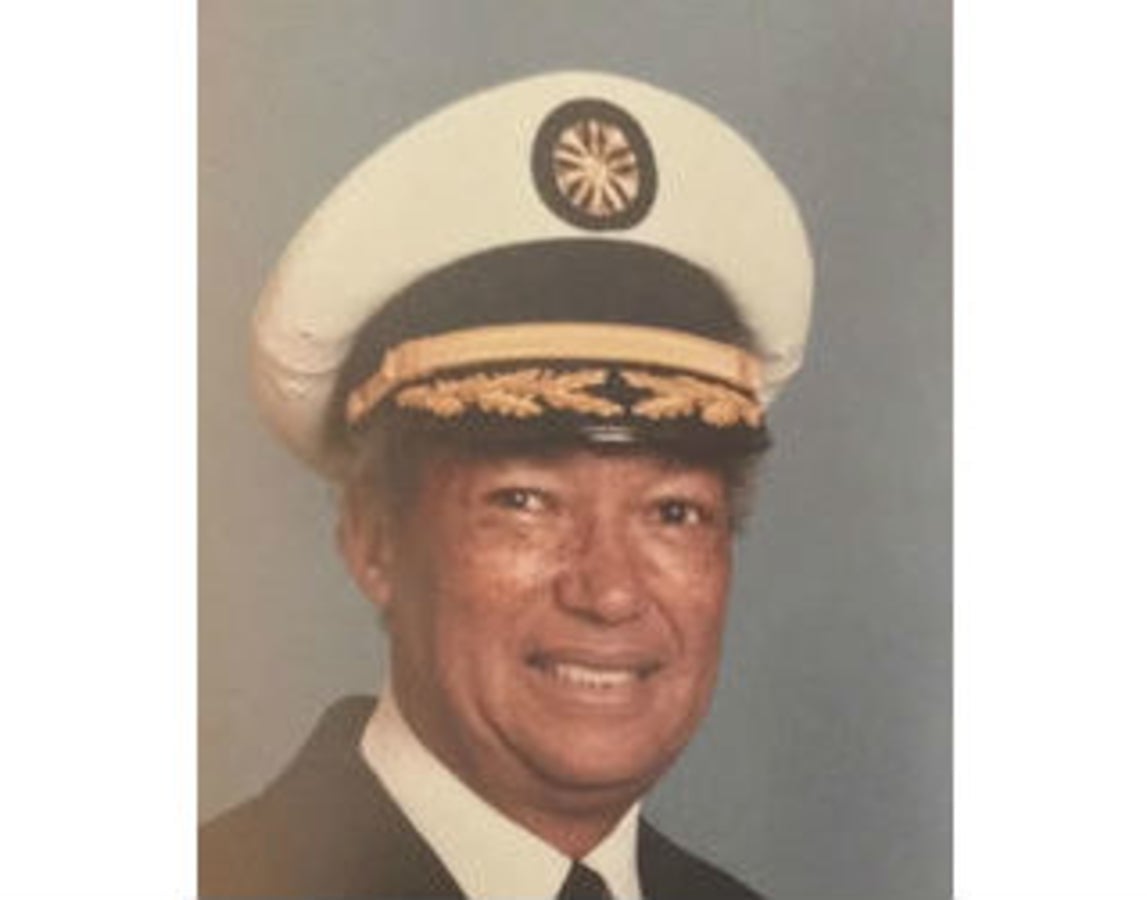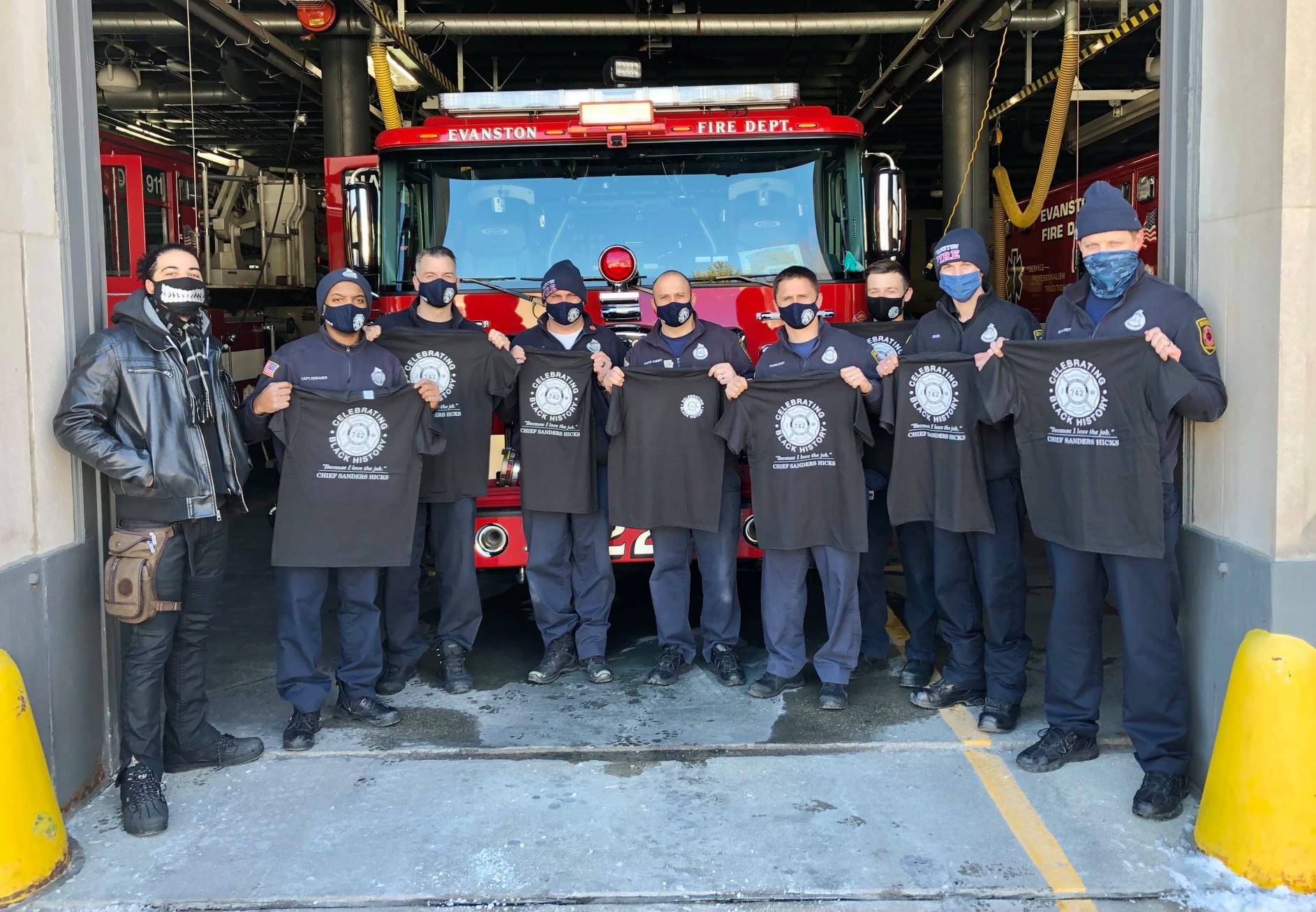 Evanston Fire Fighters Support MDA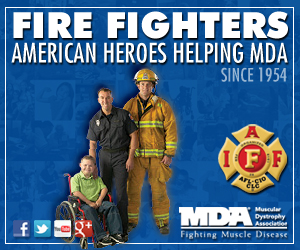 Never Forget 9/11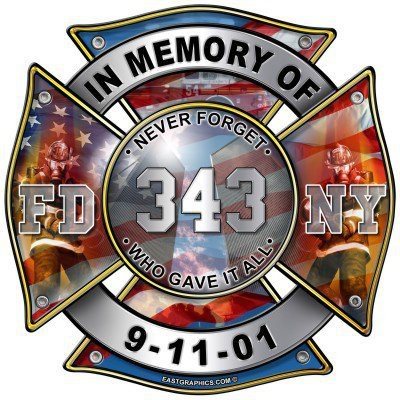 Thank you for visiting EFD Local 742!