Press Release 1
Press Releases about Evanston Local 742, the Evanston FD, etc.
Union Meeting:
NEXT UNION MEETING:
Tuesday January 14, 2020 7:30pm
Firehouse Grill
Newsletter:
Please sign up both current
and Retired Members so that
you don't miss important
announcements such as retirements,
funerals, current events, etc.
Too many times Brothers and
Sisters miss out on these events
due to a Kelly Day, vacation day,
etc. By joining the list, I will be
able to send out a notification to
each member who signs up to keep
you all better informed as to what
is going on. To help in that, if you
have information about a funeral
notification or event, please e-mail
Jeff Boetto at:
FyrEater21@aol.com to let me
know the information
so it can be passed along.
In Loving Memory:
Never Forget
Fire Chief Glen W. Ayers
April 16, 2019

Captain James C. Edwards, Jr.
April 4, 2019

Firefighter Roger Lecey
February 27, 2019

Firefighter Jerry "Ski" Czarnowski
January 4, 2019

Captain George Neuhaus
July 31. 2018

Firefighter Jerry Heber
July 29, 2018

Captain James McIntyre
June 25, 2018

Firefighter Neal Smithweck
March 29, 2018

Captain Robert Wagner
March 22, 2018

Chief Sanders "Sam" Hicks
June 16, 2017

Captain Edward Frank
June 14, 2017

Captain Ron Shulga
May 11, 2017

Captain George Strom
April 4, 2017

Division Chief James Mersch
March 30, 2017

Firefighter/Paramedic Gary Hilbert
March 21, 2017

Firefighter Thomas N. Kostopoulos
December 8, 2016

Captain Peter Erpelding
October 11, 2016

Firefighter Tomas Simpson
July 11, 2016
Assistant Fire Chief Thomas Hanson
January 10, 2015

Firefighter Kenneth Holmes
Sept. 2015

Firefighter/Paramedic Joseph F. Hayes
November 24, 2014
Captain James A. Cox
May 13, 2014

Captain Roger J. Pettinger
April 17, 2014

Firefighter Dave Henderson
December 9, 2013

Firefighter James M. Keaty
July 25, 2013

Firefighter William Lemieux
May 10, 2013

Firefighter Ben Ghiselli
February 27, 2013

Shift Chief James "Gov" Whalen
January 26, 2013

Assistant Fire Chief
Willard Thiel
January 4, 2013
Captain William L. Moore
August 16, 2012
Firefighter Bernard Burczak
January 5, 2012
Captain Bob Schwarz
November 30, 2011
Captain Daniel Lorden Sr.
June 24, 2011
Assistant Fire Chief
Edward E. Pettinger
November 12, 2010
Division Chief
David Franzen
July 29, 2010
Captain Mike Lass
May 28, 2010
Firefighter Richard G. Ruley Sr.
April 1, 2010
Firefighter/Paramedic Pat Reif
January 18, 2010
Captain Joe Planos
June 13, 2008
Assistant Fire Chief
Richard G. Schumacher
May 29, 2008
Firefighter Norman Peterson
April 13, 2008
Firefighter Stanley J. Broslovik
January 2, 2008
Firefighter Mike "Mickey" Ryan
December 27, 2007
Firefighter Bob Godemann
April 3, 2007
Chief John Wilkinson
November 29, 2006
Captain Joseph Burton
August 31, 2006
Captain LeRoy O. Dullin
March 19, 2006 (Past Union President)
Captain Ernest W. Bongratz
February 9, 2006

Captain Harold E. Cowell
January 24, 2006

Captain Peter Hanchar
January 6, 2006

Firefighter/Paramedic Chris Dwyer
May 18, 2005
Captain William Best
February 15, 2003
Captain William C. Currie
May 24, 1997
Firefighter/Paramedic
Marty Leoni
July 22, 1985

Firefighters Craig and Stiles
December 13, 1905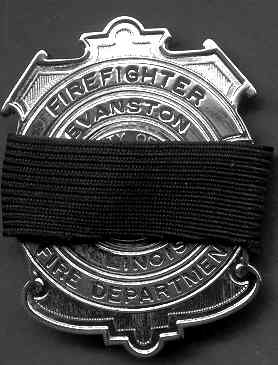 Press Release 1
10 Year Smoke Detector Law
November 6, 2019
Contact: Deputy Chief Paul Polep - Media Relations
Phone: 847-866-5935
Email: ppolep@cityofevanston.org
Fire Experts & Public Health Officials Join Legislators To Announce Illinois' New 10-Year Smoke Detector Law at Evanston Fire Department
EVANSTON, IL -Fire safety and public health officials gathered today at the Evanston Fire Department to make the public aware of Illinois' new 10-year smoke detector law.
"In 2018, there were over 100 residential fire deaths in Illinois and sadly nearly 70 percent of these deaths are occurring in homes without working smoke detectors," said Illinois Fire Safety Alliance (IFSA) /IL Firefighters Association Government Affairs Director Margaret Vaughn. "We worked with the General Assembly to pass a law to address this horrific problem, by requiring Illinois residents to replace their old smoke detectors with the type that has a long term 10-year sealed battery by the end of 2022. This would apply to residents that are still using alarms with removable batteries or alarms that are not hardwired."
"People often have a false sense of security when it comes to fire safety. Since 1988, the Illinois Smoke Detector Act has required all dwellings to have smoke detectors. The new requirement just updates that law to reflect the changes in new technology, aimed at saving lives, while making it easier and more cost effective for Illinois residents to comply," said State Representative Robyn Gabel (D-Evanston).
"While the number of fire deaths may have decreased in the past few decades, you are more likely to die in a residential fire than you were years ago. This is because the majority of these deaths are caused by smoke inhalation and not burns, which is why escape time is so critical. The toxic gases that are emitted from the synthetic material in modern homes also contribute to this problem and flash-over is occurring in as little as 3 minutes as opposed to almost 30 minutes a generation ago," explained Evanston Fire Chief Brian Scott.
"With a long term 10-year battery alarm, there is no need for battery replacement; saving the average homeowner between $40-$60 in battery costs over the life of each alarm. At the end of the 10-year life cycle, the smoke alarm will automatically alert the homeowner to replace the alarm," said Illinois Fire Safety Alliance (IFSA) Executive Director Phil Zaleski. He explained further, "While many people deactivate their older model smoke alarms or remove the batteries while cooking, the 10-year model is not a cooking nuisance and has a 15-minute silencer button. They are also very affordable with the current retail price being about $20."
"People don't realize how quickly a fire can turn deadly and how important escape time is. Installing new 10-year sealed battery smoke alarms helps families stay protected, with the most advanced sensing technologies and safety features available," said Greg Olsen, the City of Evanston's Public Health Manager.
Evanston residents who need assistance with installations or a 10-year smoke alarm can contact the Evanston Fire Department through the City of Evanston 311 system or if using a cell phone text (847) 448-4311.
Illinois-based First Alert is donating smoke alarms and the tools and equipment to install the alarms to the Evanston Fire Department to help reduce the number of fire related injuries to those in the community.
To learn more about protecting your family from smoke, fire and carbon monoxide, visit the IFSA website at www.ifsa.org or the First Alert website at www.firstalert.com.
for more information, contact Deputy Chief Paul Polep at ppolep@cityofevanston.org or Margaret Vaughn, Government Relations, IL Firefighters Association/IL Fire Safety Alliance mvaughn@springnet1.com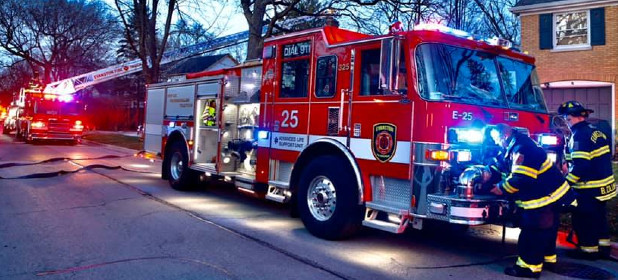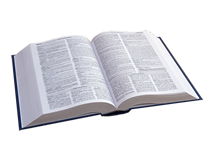 Saving Lives Protecting Property